HOW TO STYLE A KID'S PARTY TABLE
With simple low cost ideas. 
With four kids in the house, I have certainly set up my fair share of party tables over the years. And even if my kids don't have a huge party, I still like to set up one area of the house to make their day feel extra special. So today on the blog I'm sharing a few simple ideas of how you can transform a basic table or sideboard into a mini party haven!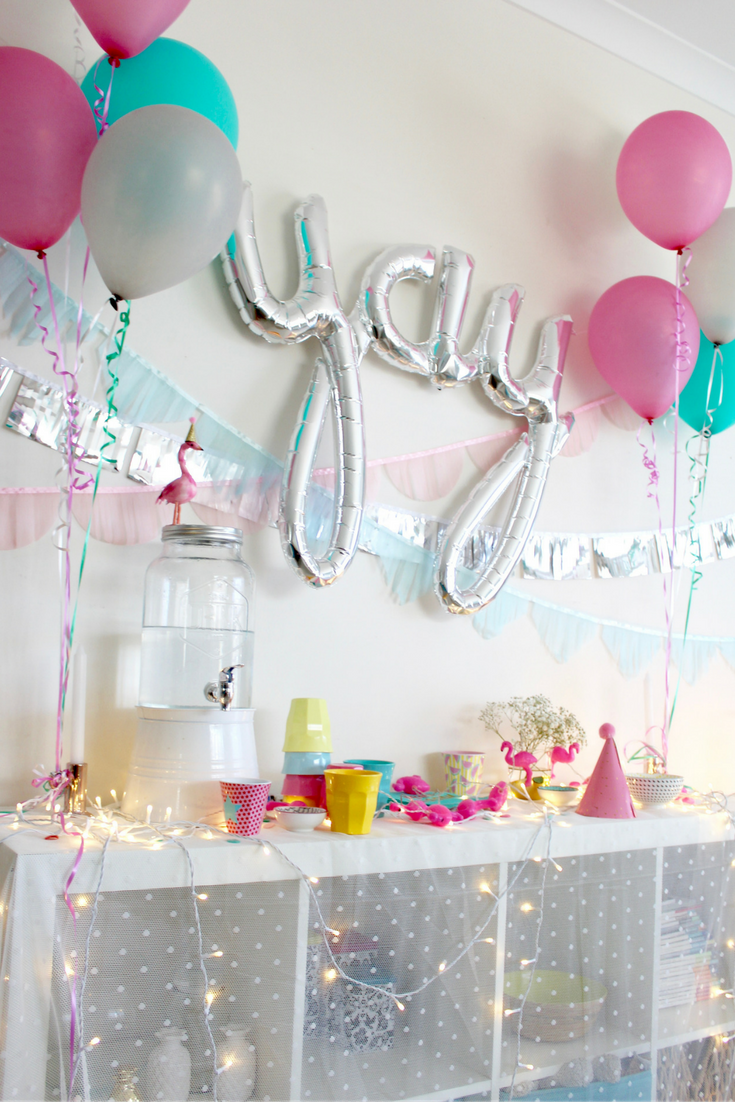 ALLOCATE AREA and PURPOSE:
Depending on the size of the party, think of what you want the area to be for and where the best location would be. Zones you may need include:
Cake and or drinks table
Food table
Small side table placed by the front door where the party favours are kept (this way you never forget to hand them out)
A table to place gifts and birthday cards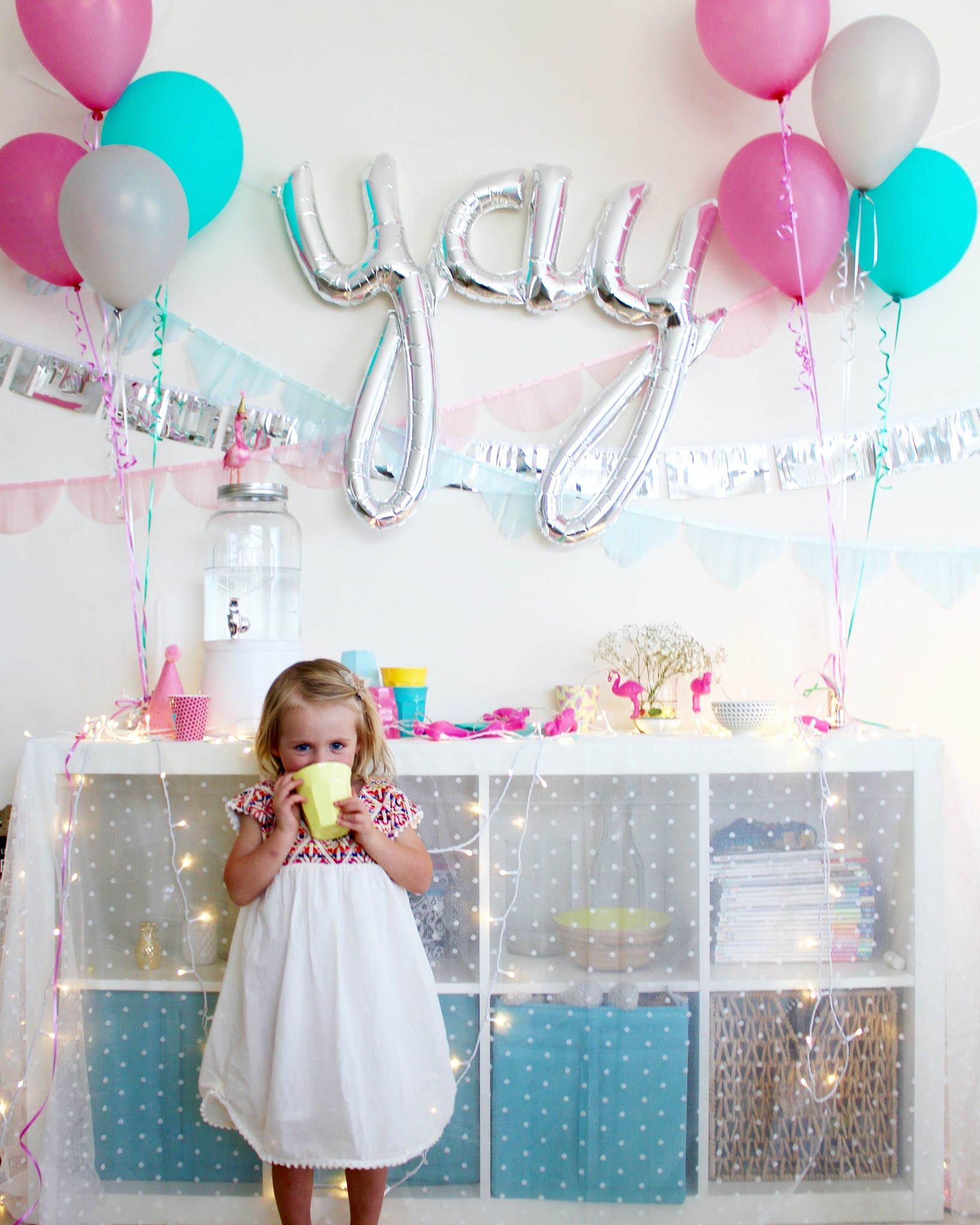 TABLE COVERS
Once you have chosen your areas, cover the table or sideboard.
Aside from aesthetics, adding a table cloth or piece of fabric over the 'party table' can also save your furniture from inevitable 'spills', especially if dealing with young children. This year I used an old table cloth outside and I used a piece of fabric for the small unit inside. Covering these areas (if things are visible) also means that there is barrier stopping little hands from getting into all of your breakables.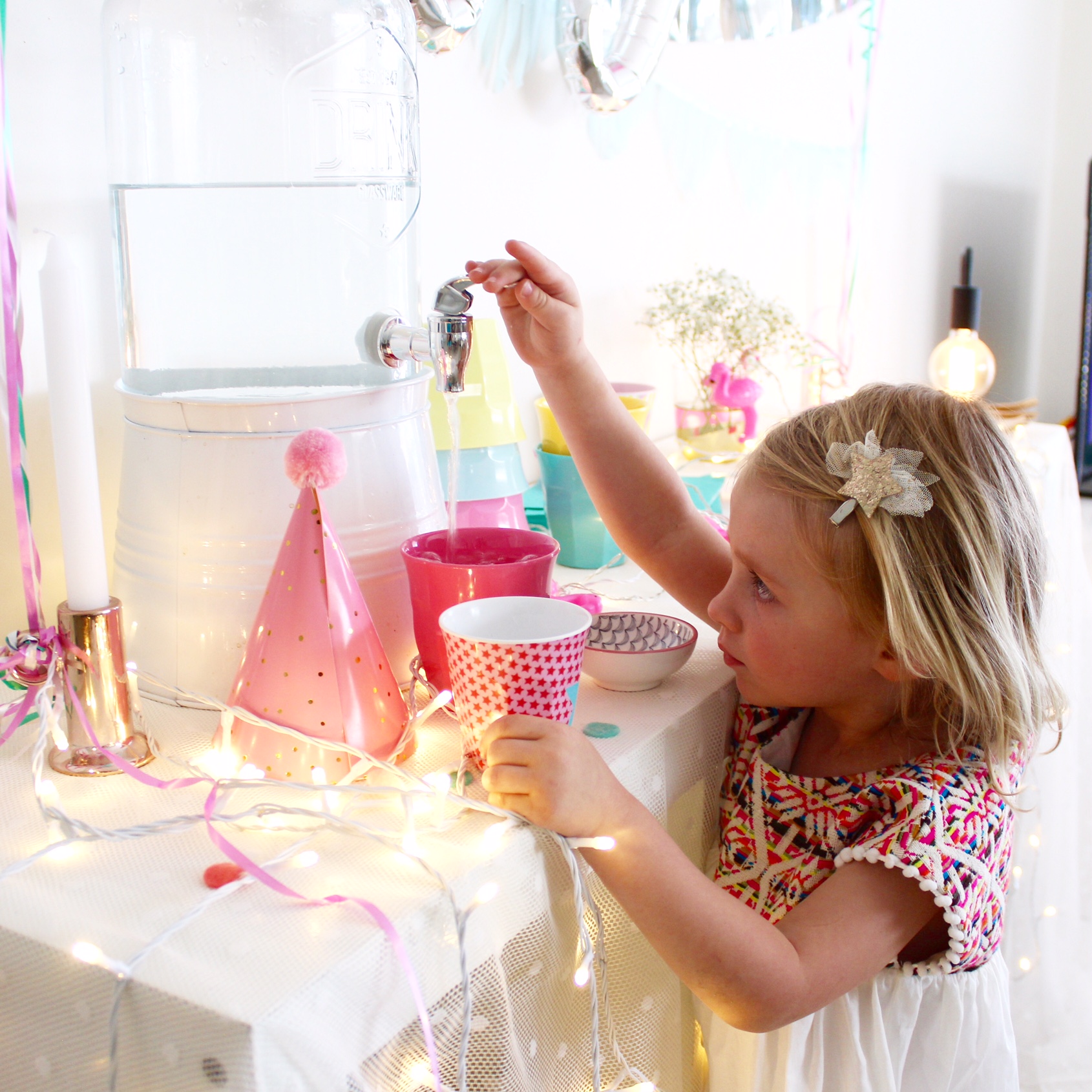 While I love to add a little colour, I like to keep table cloths very simple and basic. By keeping them white, the colours that are brought into the space by balloons, napkins etc really pop.
TABLE COVER IDEAS:
Shower Curtain (waterproof)
A sheet
Fabric
Standard party table cover
Curtain
Wrapping Paper – roll out along length of table for table runner in party colours
Use cups or vases and add a few flowers
Drape Fairy Lights or string lights for a little sparkle.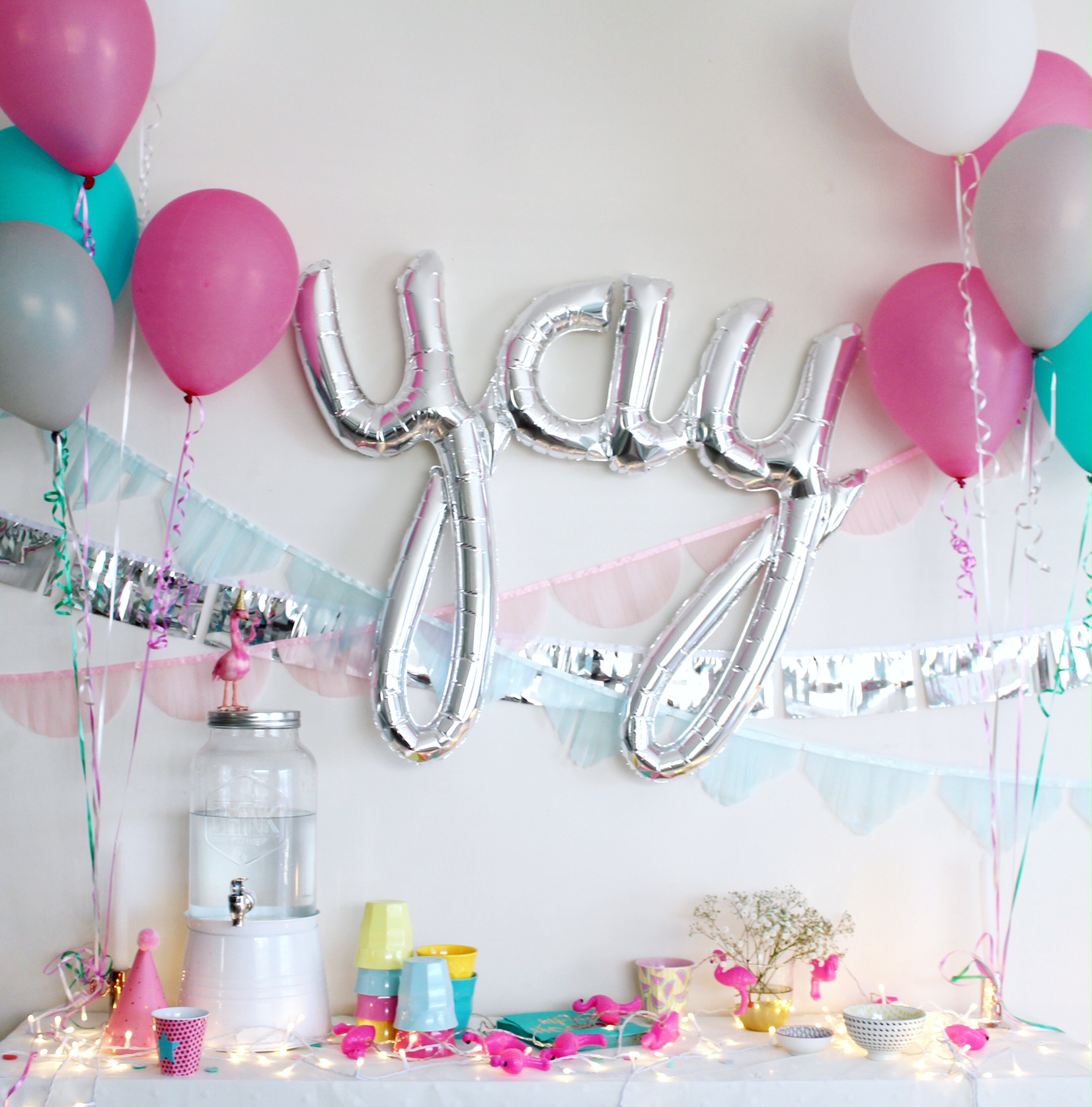 HERO PIECE
After you have covered your table think about what the hero piece will be. Whether it is a vase of flowers, a photo of the birthday boy/girl, the cake or a special gift, it's nice to have one stand out piece that your eye is drawn to.
If you are stuck for ideas, I love the impact that an oversized balloon makes. The added bonus is that these balloons can make a pretty cool room decor piece after the party is over.
I still have Ocea's flamingo balloon from last year and was tempted to bring it out, but the yay balloon was all that was needed.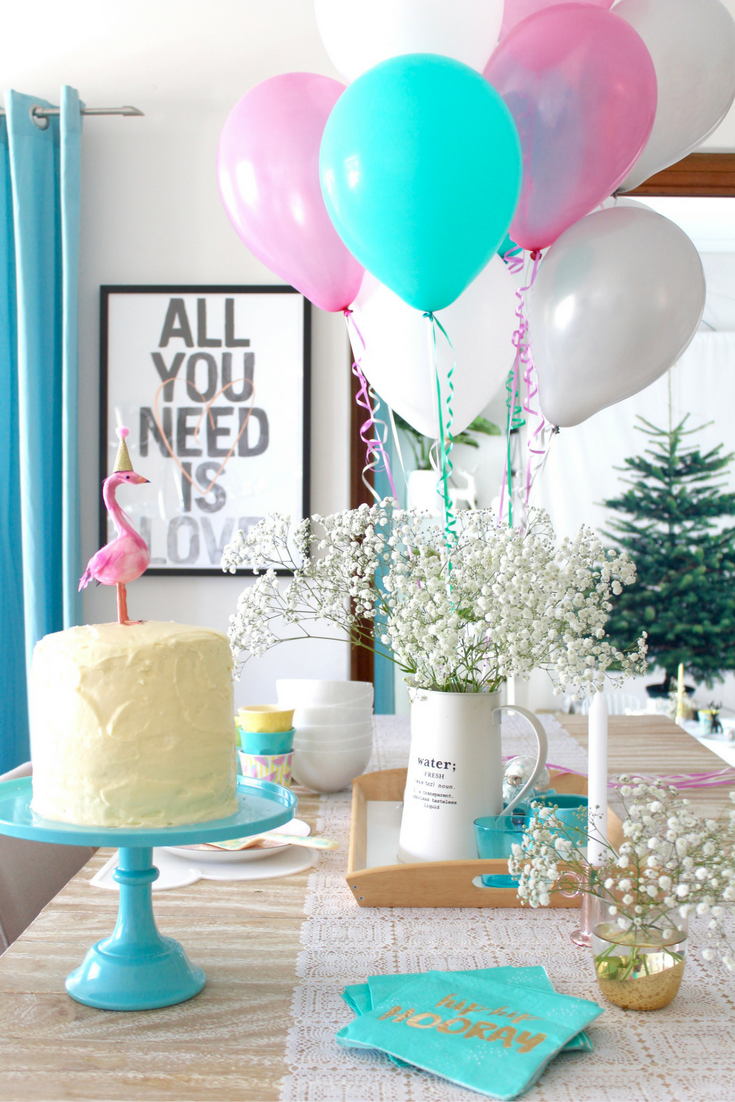 BALLOONS
Nothing says PARTY like a few ballons scattered here and there.
Helium balloons always look nice when grouped in odd numbers, with the heights slightly staggered.
MONEY SAVING TIP
To save costs, get your helium balloons from a general department store like BIG W, or Spotlight. They generally cost 50c each but are often on special for as little as 30c.

Also, don't worry about using store bought weights. These add an unnecessary cost and you can easily make your own by attaching them to items like cups or something related to the party theme.

For my sister's little boy's party a few months ago, the balloons were weighted by a couple of his favourite oversized dinosaurs. It looked really cute!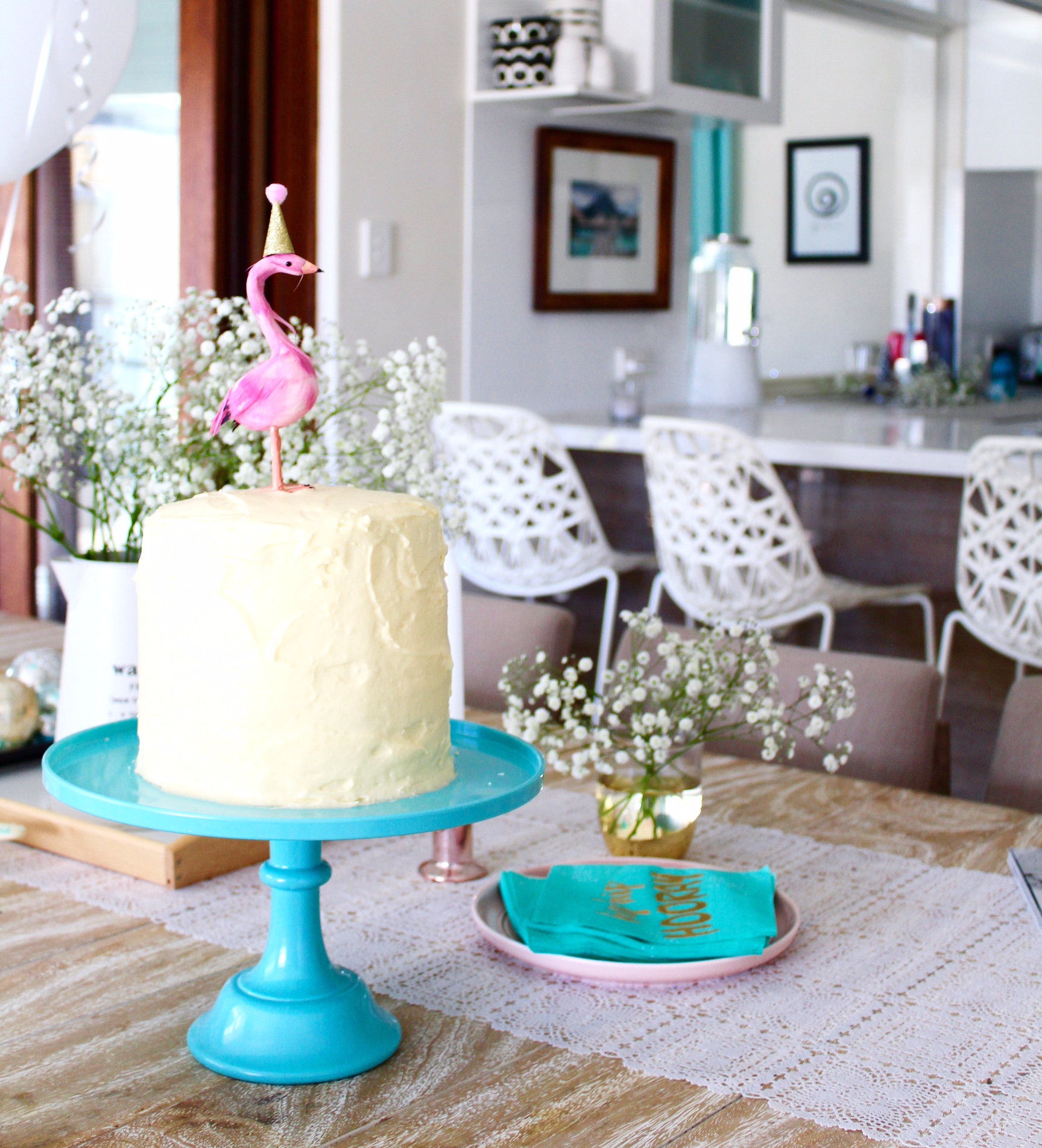 CAKE STAND
A cake stand is such a great investment for a party. It elevates the cake and adds visual interest to even the most basic of cakes.
If you don't have a cake stand you can try placing the cake on a secure and sturdy box (for example a board game). Just place the box underneath the fabric so it can't be seen, or layer fabric over the box before placing the cake and tray on top.
You can also use an upturned bowl and place a nice plate on top.
Don't forget to double check that it is secure first!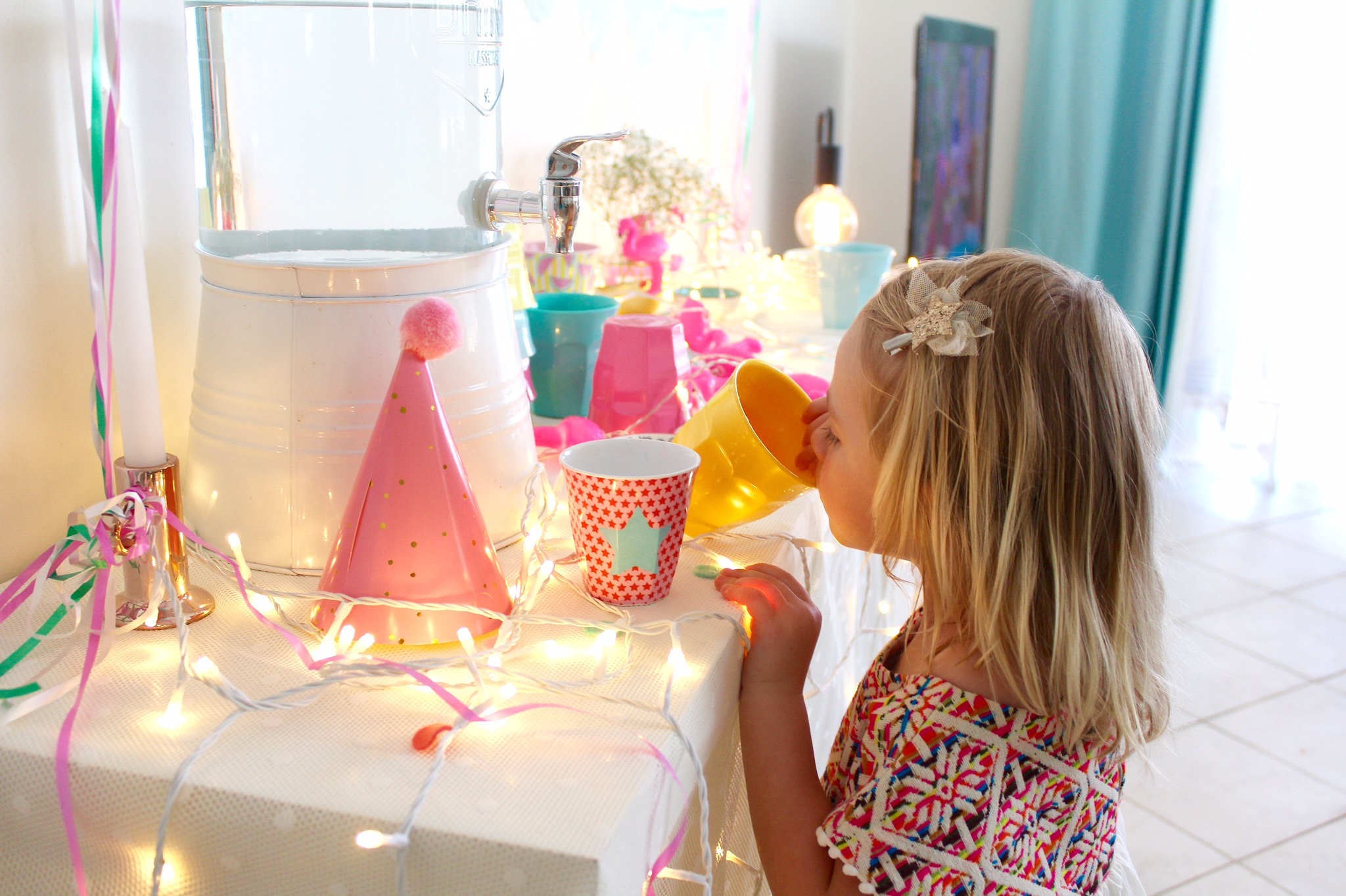 INJECT PERSONALITY AND FUN
With the tables all set, it's nice to add a little fun to the table. Using simple items like fairy lights, coloured napkins, colourful cups or cutlery can add that finishing touch that is needed to change what was once a boring old table into a little bit of party WOW!
Till next time, Ness X
SHOP THE LOOK:
1 | Yay Foil Balloon 2 | Flamingo String Lights 3 | Cups and Cake Stand