THE BEST PLAYDOUGH RECIPE EVER!
This would have to be my all time favourite play dough recipe, tried and tested time and time again. It is cheap, quick, easy, provides hours of fun and is one the BEST activities to get those little hands moving, strengthening and developing the all important fine motor skills in children.
This batch we made over the Christmas school holidays, ALL of my children still love playing with it!
Once made, just store it in an air tight container in the fridge. It should last well over a month (mine is still going strong and it's almost two months later).
To mix it up, you use the same basic recipe but once combines just add different textures (e.g. glitter, sand, coconut), make a different colour (add food colouring) or for a better sensory play experience, add a few drops of your favourite essential oil.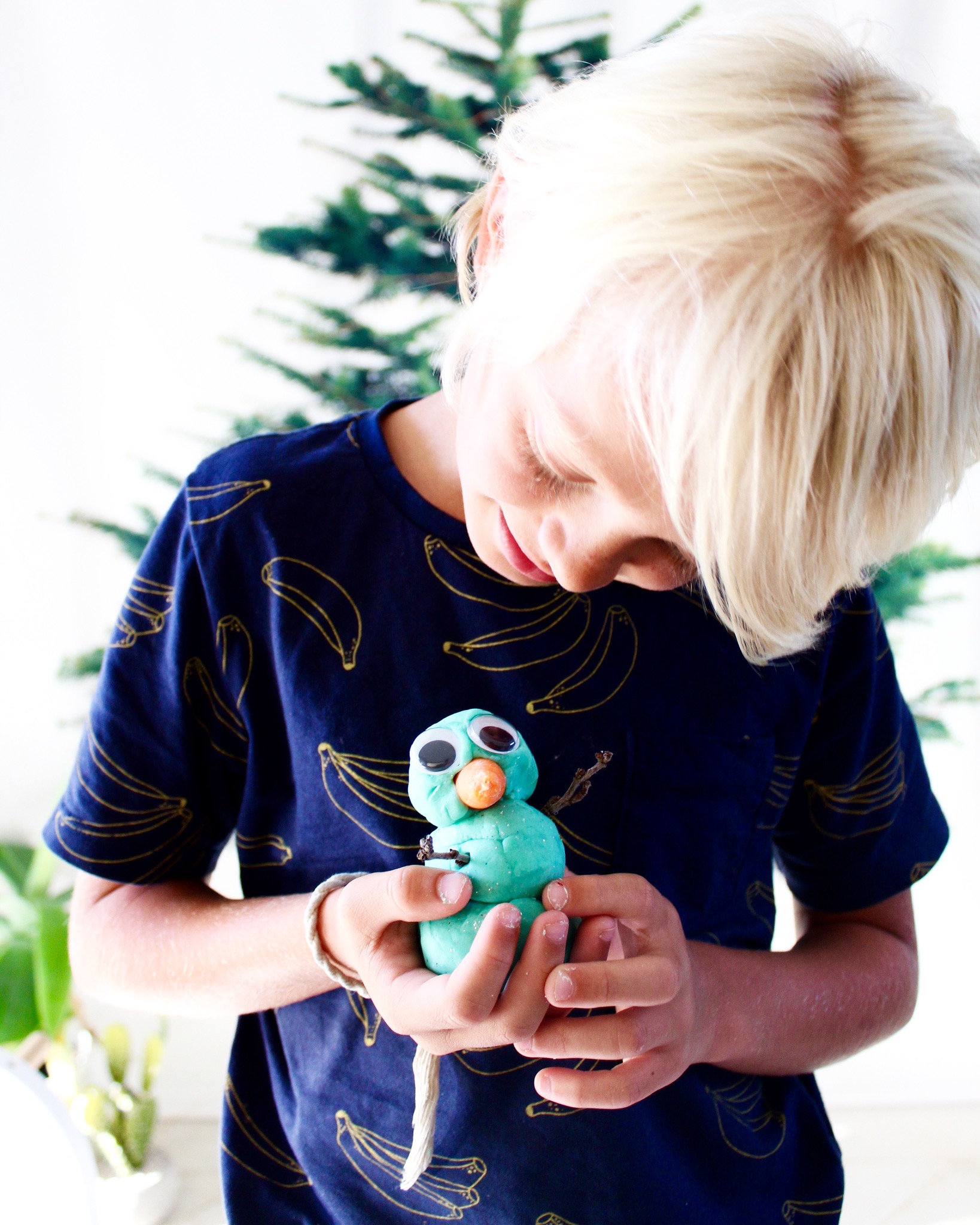 ABOVE: MY little boy Toby loved creating his snowman using a few twigs, goggly eyes and a piece of carrot – too cute!
INGREDIENTS:
2 cups of plain flour
1 cup salt
4 tbs of cream of tartar
2 tbs of cooking oil
2 cups of boiling water
food colouring of choice
PROCEDURE:
Mix all dry ingredients, followed by wet in a large mixing bowl.
Once combined, add boiling water and continue to stir until mixture congeals.
If mix is too sticky, add a little more flour. If mix is too dry, add a tiny dash more water.
LEARNING BENEFITS:
Play dough is a fantastic medium for strengthening Fine Motor Skills in children.
CHANGE THE PLAY:
By simply changing things children can use to create with (think popsticks, feathers, goggly eyes) the outcomes of play can be altered in an instant.
For other fun Play based ideas you may also like this post about making OOBLECK.