A few of our fave family snaps from our low key chillaxed Chrissy of 2K15!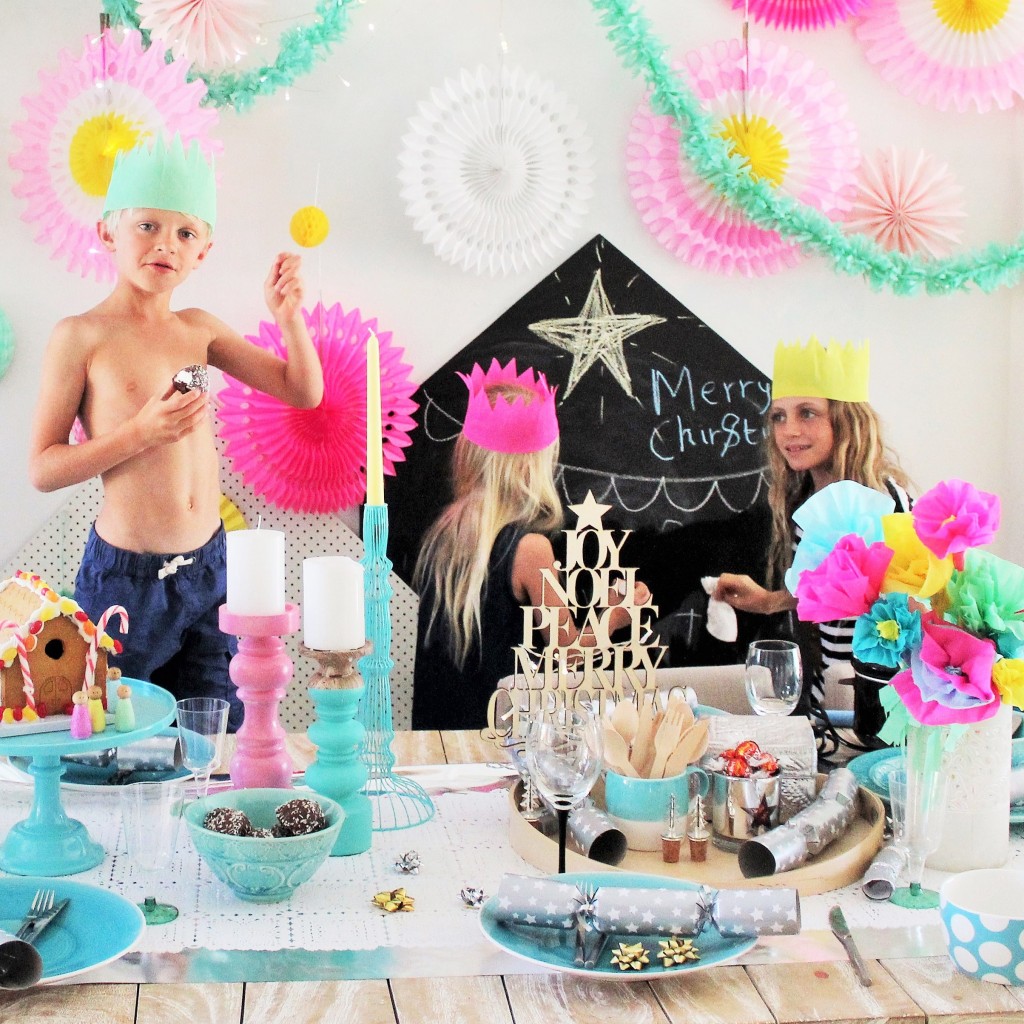 With such a busy lead up to Christmas (birthday season in our house) most things Christmassy were left till the very last minute.
The benefit of this meant that there was literally no time to start stressing about all the things I hadn't done and instead, made the most of what was already around and really involved the kids all the Christmas organisation (which is so much easier now that they are older).
I even gave my kids total control of our Christmas tree decorating this year – leaving Summer in charge with a copy of Real Living for inspo and a few rules of – lights first, zig zig the ornaments and keep it tinsel free. They did a pretty good job and for the first time ever, I resisted the urge to tweak once they were asleep.
It was  Christmas Eve before I  I realised we had no flowers for the table so the girls got crafty and made some crepe paper flowers as a Christmas center piece. It added a quirky bright point of reference for the day and kind of set the theme for the Christmas Table (I love any excuse to do up a table).
Once the flowers were done Ocea, had a bright idea of making some matching crowns with the left over crepe paper. As simple as it was, it tied the whole look together for a bit of colourful festive funshine!
By keeping the same backdrop from Ocea, and Indi's birthday I simply added a few Chrissy decorations to change the look with minimal effort.
The kids also worked together to make the DIY gingerbread house, they baked the cookies for Santa and I let them have free range on making our annual Christmas Eve reindeer food (consisting of mainly grated Apple, carrots, oats, cereal and a splash of childhood magic).
The DIY gingerbread house was one the kids favourite parts of our Christmas Table. This was moved outside to the kids corner when the food was served. By adding Indi's fave little gitter rainbow peg people by Two Little Loves, it allowed the kids to play and kept them busy while waiting at the table.
Our entire Christmas day was very relaxed, low-key and chilled out. It started with four little pairs of feet running around the house, checking that Santa had arrived.
Ocea searched for proof of Santa by checking that Santa signed her letter, looking for the milk and cookies remnants and examining marks left by the reindeers on the carrots.
After the kids unwrapped their pressies, we went for a bike road to the park across the road. Followed by our traditional family beach swim at our local. Then home to prep food as the kids played in the pool.
Once my sister and her two little ones arrived, food was served, bellies were filled, tunes were played, laughs were had and memories were made!
Till next time, thanks for stopping by!
Love ness X
This slideshow requires JavaScript.