I have received quite a few emails and questions about the products, and paint used in my daughter's bedroom when it was styled this way so today I thought I would share and answer a few of those FAQ's.
WHAT IS THE NAME OF THE PAINT COLOUR ON THE WALL?
Unfortunately this paint colour has no name. Why? Well, the colour I was initially going to choose was a lighter shade but… I wanted a deeper grey tone without committing to the harshness of black.
Due to the amount of pigment needed to create this colour, the original sample could not tolerate the extra amount of tint so the lovely staff from Bunnings created this custom paint colour for me.
The result, this beautiful deep grey tone.
HORSE PRINT AND HELLO SIGN
This horse print and the black and white palm print were both bargain finds ($10)  from Big W Australia. The hello sign is a few years old now, from Target Australia.
MERMAID – DEETS PLEASE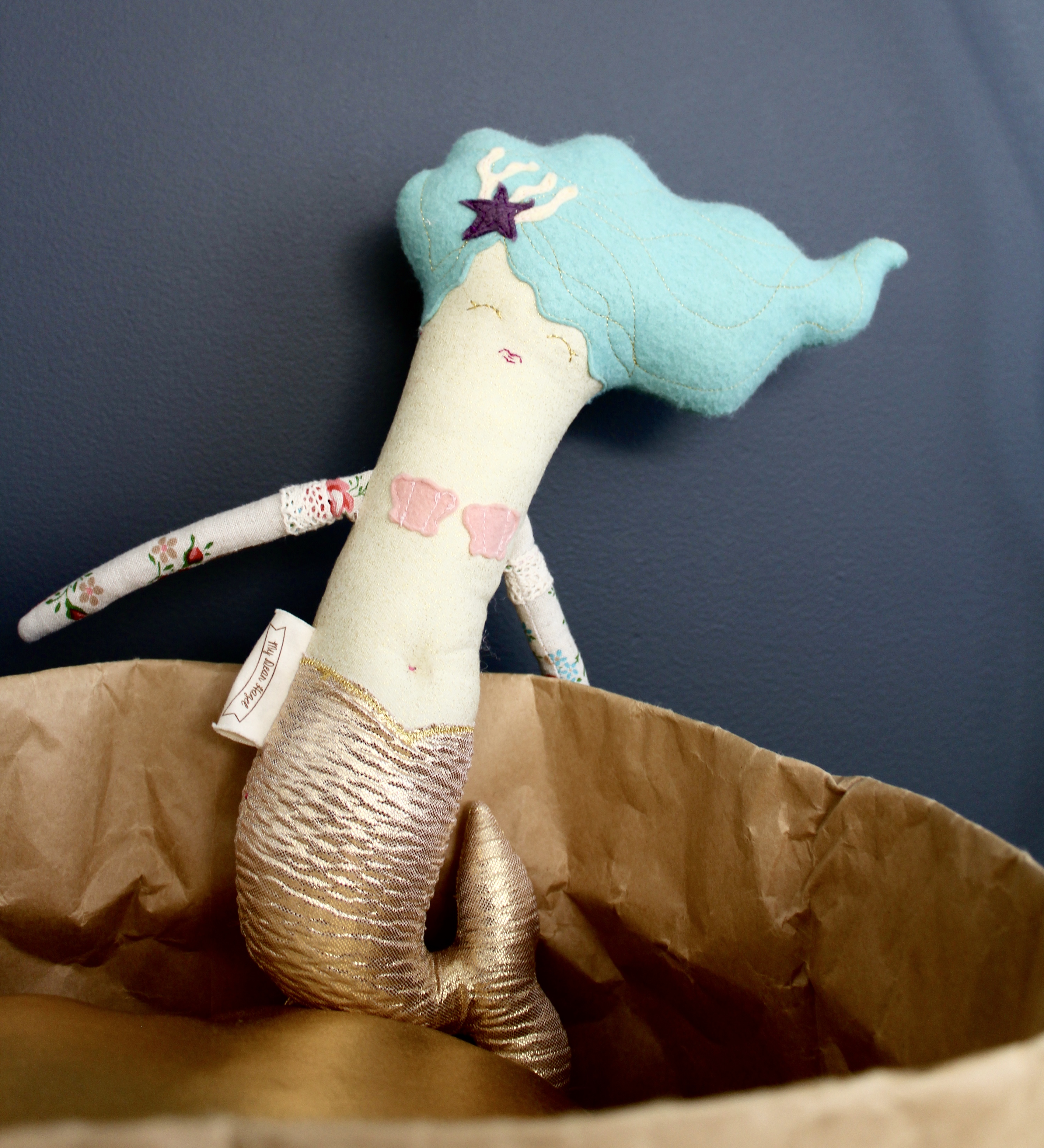 Handmade in the states by My Dear Hazel – one of the cutest little mermaids EVER.
TELL ME ABOUT THE Ø PRINT… 
Designed and created in Denmark by a VERY COOL  brand called Kortkartellet, the Ø print –  a letter in THE Danish alphabet, also happens to be a Danish word meaning 'Island' so it suited my little Oceanna perfectly.
Not only did I choose this print because it represents the initial in my daughter's name, but it is also an ode to my children's Danish heritage from my husband's side of the family. Any excuse to bring a little 'island' love indoors!
Our print is from one of my fave Aussie stockists – Norsu Interiors.
LUCKY BOY SUNDAY – BLIP BLOP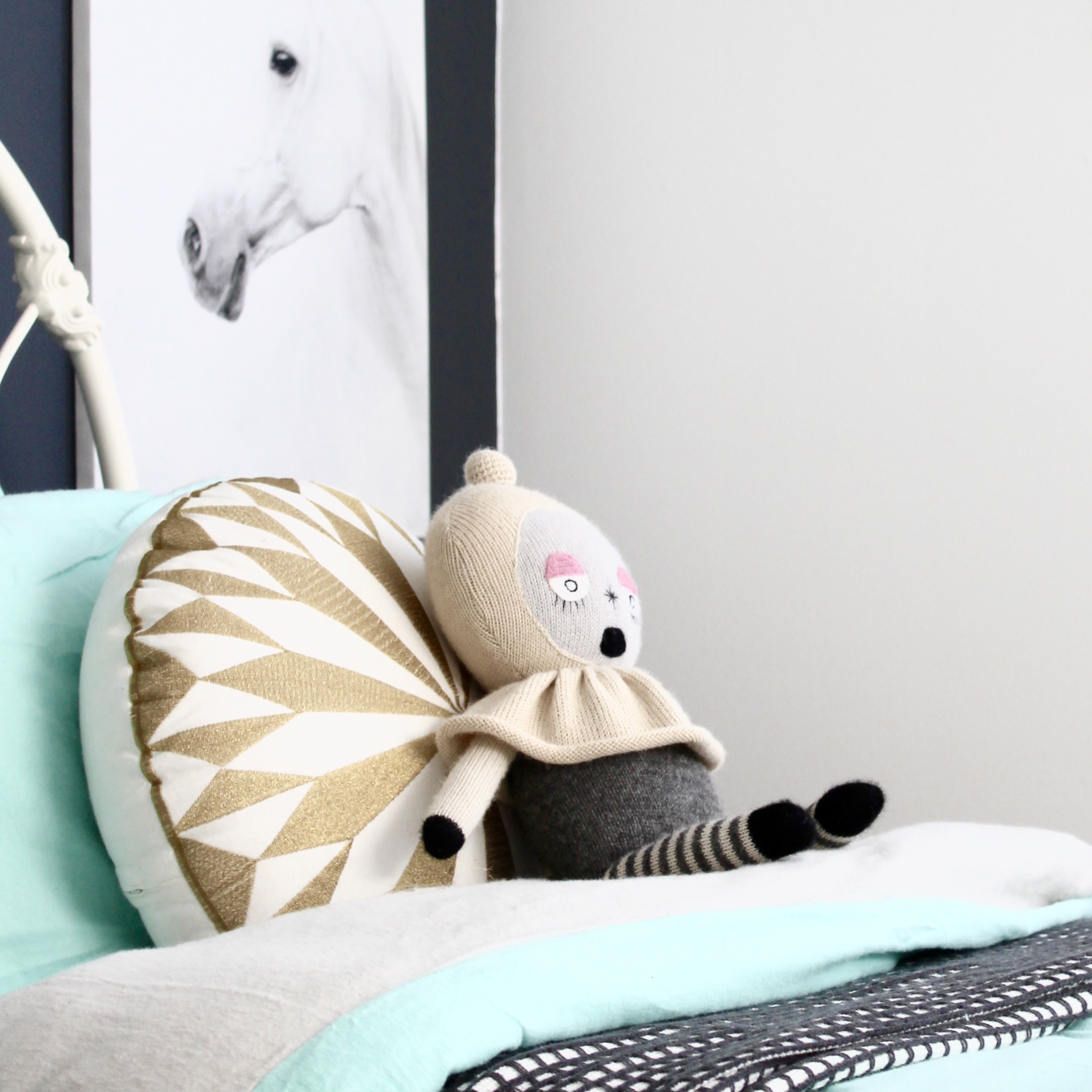 This cute little hand crocheted blip blip is from Danish brand LUCKY BOY SUNDAY.  Made from high quality alpaca wool, these cool soft toys make a perfect special keepsake gift for design conscious parents. I love using these funky little toys in kid's bedrooms.
DO YOU HAVE ANY TIPS FOR STYLING A BED?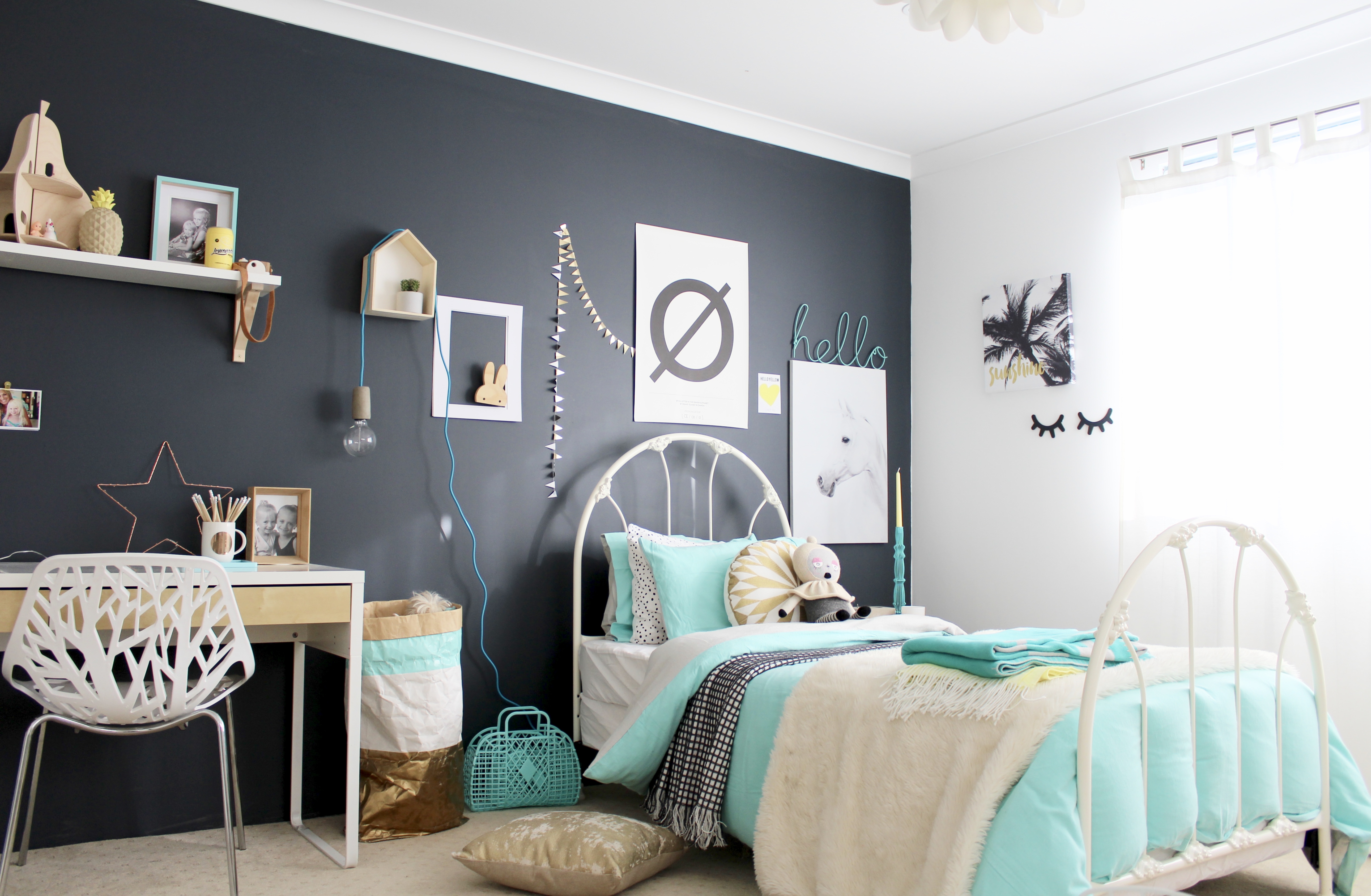 I tend to look at 'styling' a bed the same way I would as choosing an outfit. Choose a few basics, then add a little pop of colour and a bit of pattern or texture every now and then. And in Winter, layer, layer, layer then trim it down a little as the weather warms up a notch.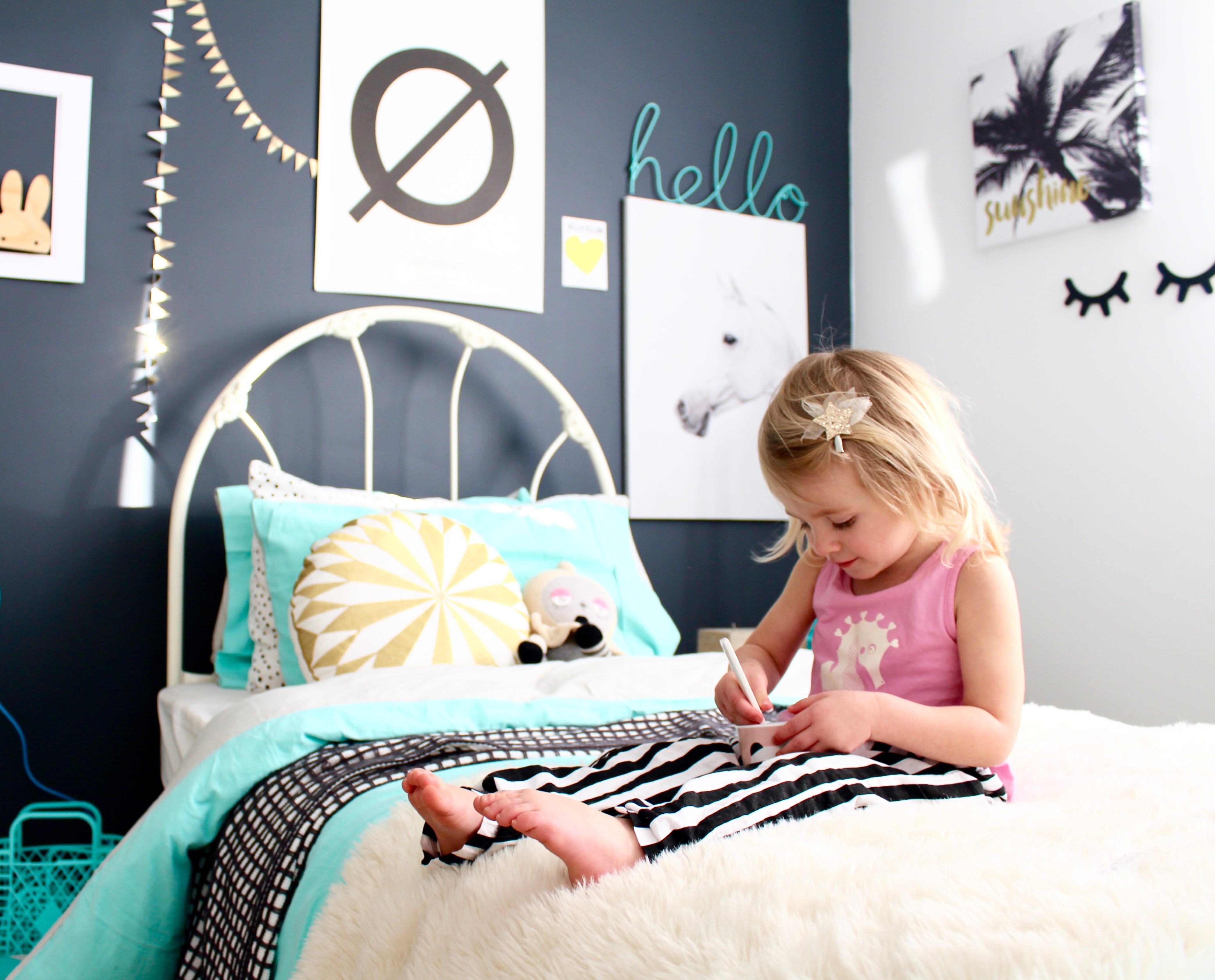 The bedding used in this bedroom was a mix of Spotlight, Adairs, Freedom and Target. I started with the basic plain mint/grey reversible flannelette doona, then layered the waffle throw at the top of the bed before folding over the doona to add interest. By simply folding and stacking a few throws on the end, I added a little pop of colour to brighten the bedroom and to give the option of layering up or down as the temp changes.
WHERE ARE THOSE CUTE LITTLE CHAIRS FROM?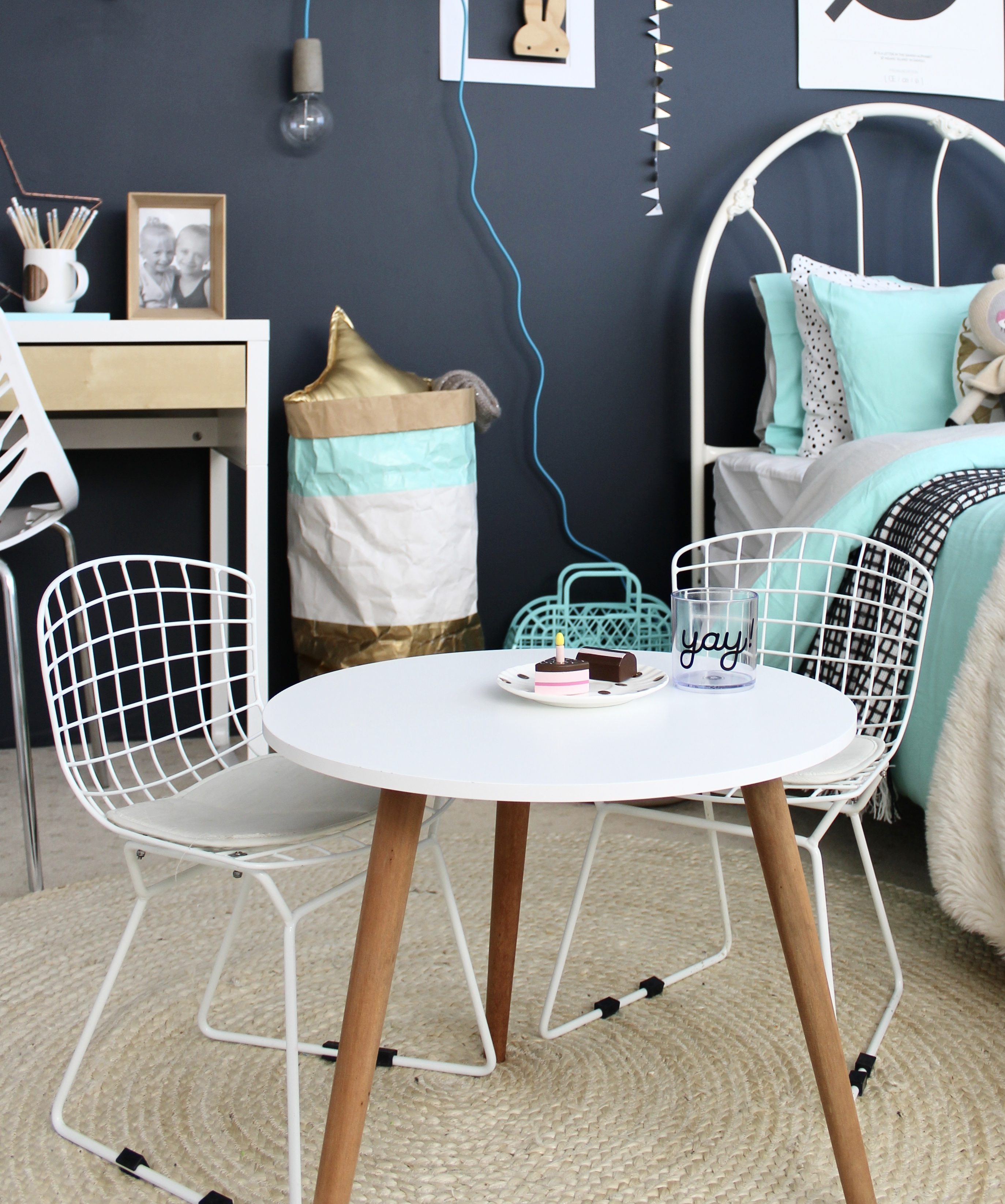 I have had these replica baby bertoia chairs in my kid's bedrooms for over 8 years now. I bought them online from a Melbourne store called SOKOL furniture. They are currently available in a few different colour options but my fave is the white – goes with anything, never dates!
WHAT ABOUT THE REST?
As for the other items just click on the coloured text to take you to some of my fave home decor businesses, big and small! Storage bag by Pretty Tidy. Sleepy eyes by Pretty in Pine, Concrete light by Temple and Webster, retro shopping bag by Sunjellies, assorted gold cushions by Freedom, study chair by SOKOL furniture (have forgotten the name of the chair – have had it for years). Shelves from IKEA, gold bunting by Gilli Gilli Paper Studio.
Other items, I have either had for ages, were up cycled, from a thrift store or I simply can't remember.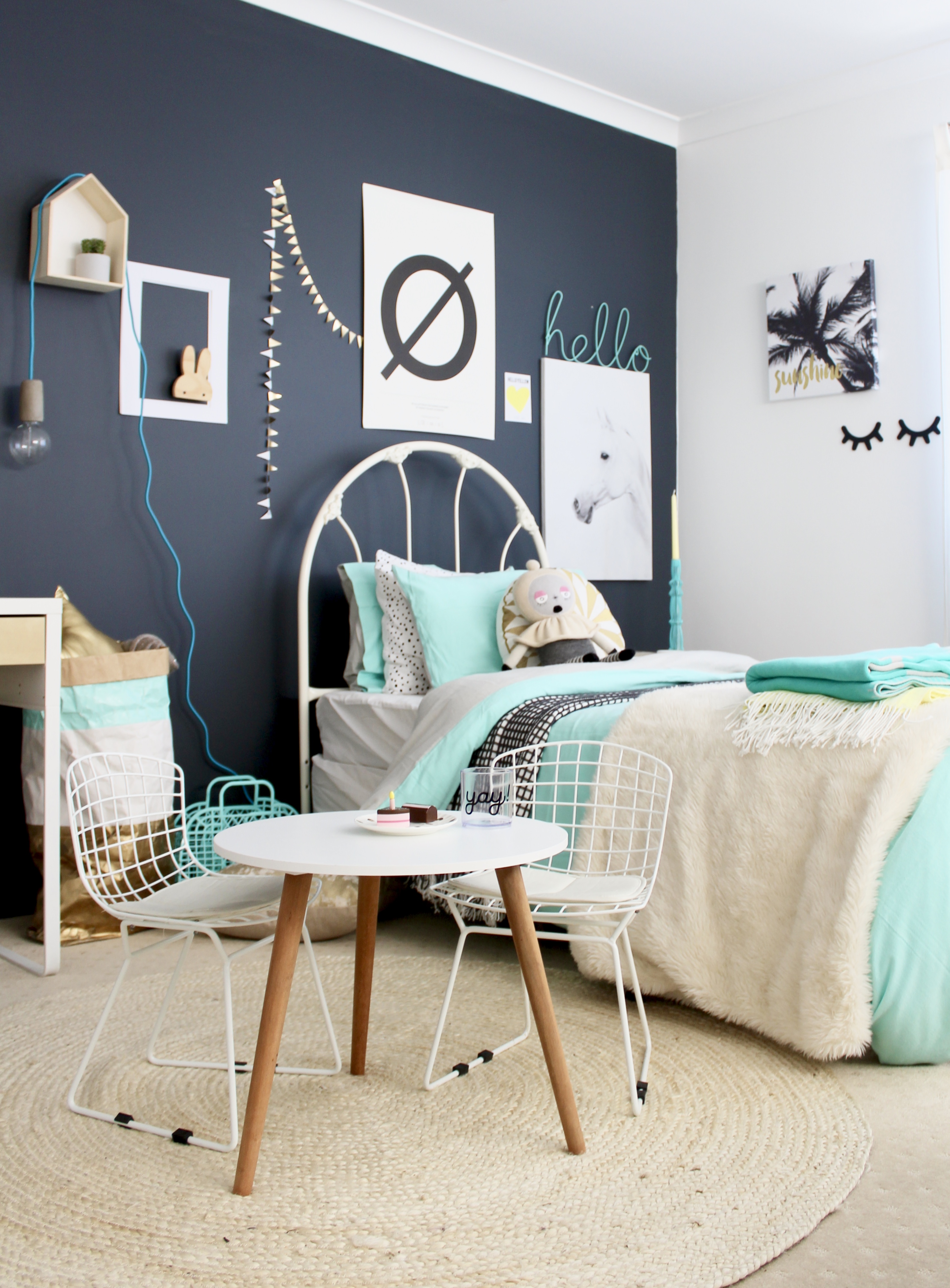 If there is ever a room I have featured and you have something you want to know, please drop me a line. I'm only too happy to help.
Enjoy your weekend,
Love Ness X