fun filled alphabet charts for kids
When you have a little one who is interested and eager to learn, you roll with it! And that's what I have been doing with my little Indi that led to the creation of this fun printable rainbow alphabet chart. With a playful take on the more traditional alphabet charts you see, this one is designed with a splash of happy in mind.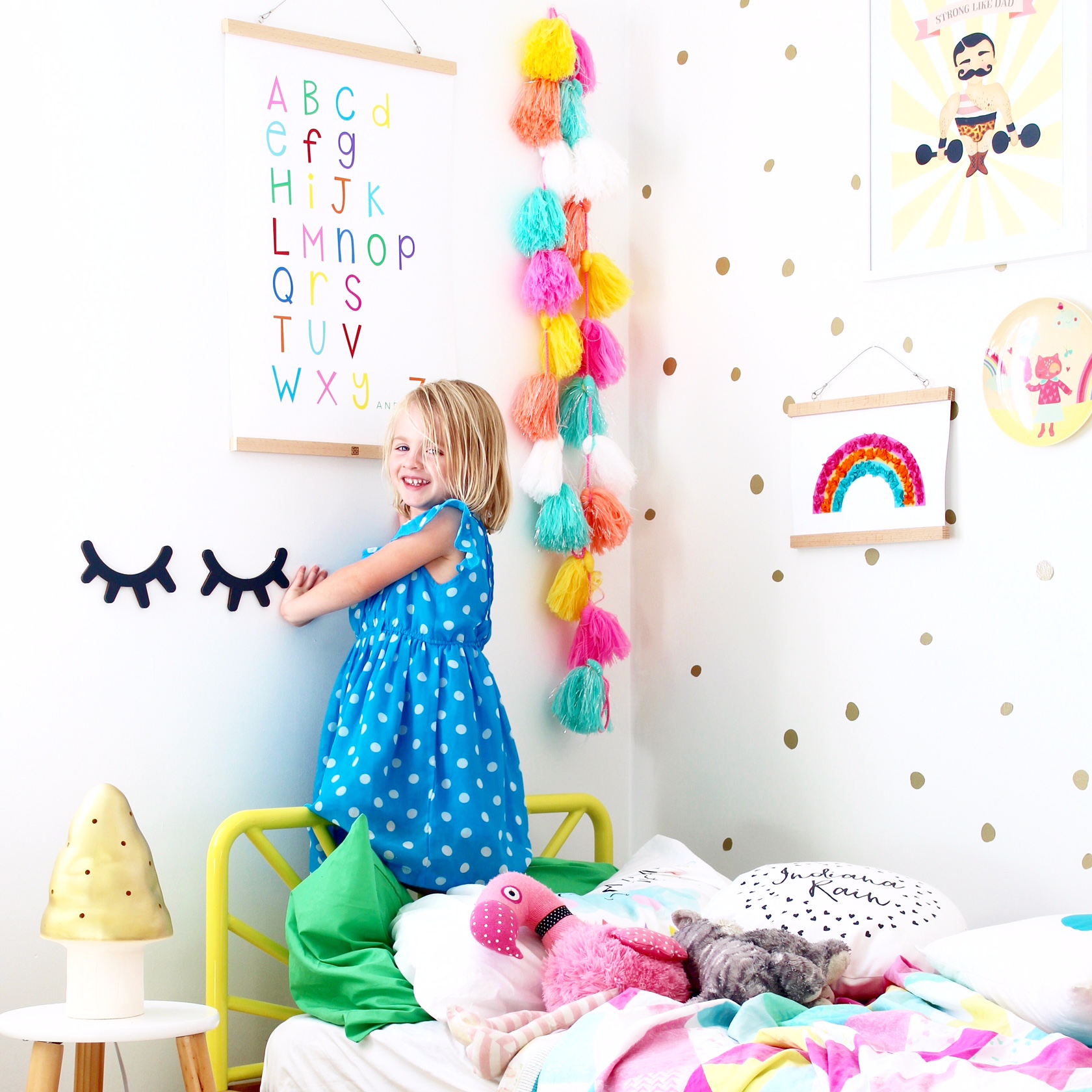 I literally spent FOR EVER searching for a designer alphabet chart that would both compliment my children's bedroom decor and also use a teaching tool. I was after something fun, colourful, cheerful, with a playful design element that appealed to a toddler. And since I couldn't really find anything I was after, I created this rainbow alphabet chart myself for my little girl Indi. She absolutely loves it and I decided to add it to my online store as a digital download which you can check out HERE.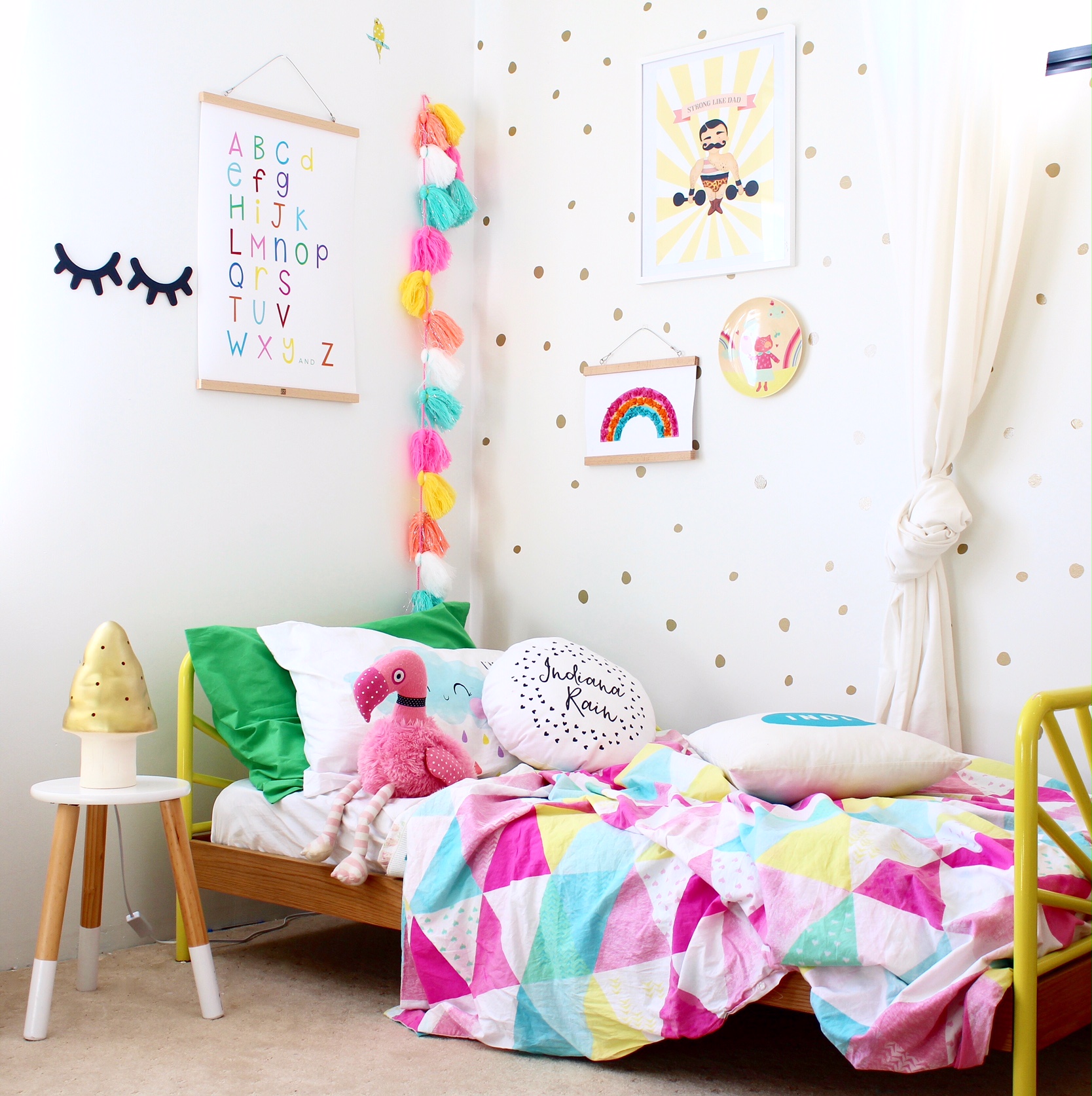 This alphabet chart follows the tune of the traditional alphabet song. It has been designed this way with the intention of it helping children make the visual connection between letter name and symbol. As children sing along, I would encourage and guide them to point to each letter of the alphabet – something Indi loves to do. I really must try to capture it in video one day as her singing is SO. RIDICULOUSLY. CUTE!
Touching each letter as you sing can help to solidify that cognitive connection between letter names and letter sounds (sound-symbol relationships). I have also printed a smaller A4 version which I have laminated so Indi can use it during her playtime with her dolls and babies, you may like to do the same – especially if your alphabet chart is framed in glass (which I would not recommend children playing with).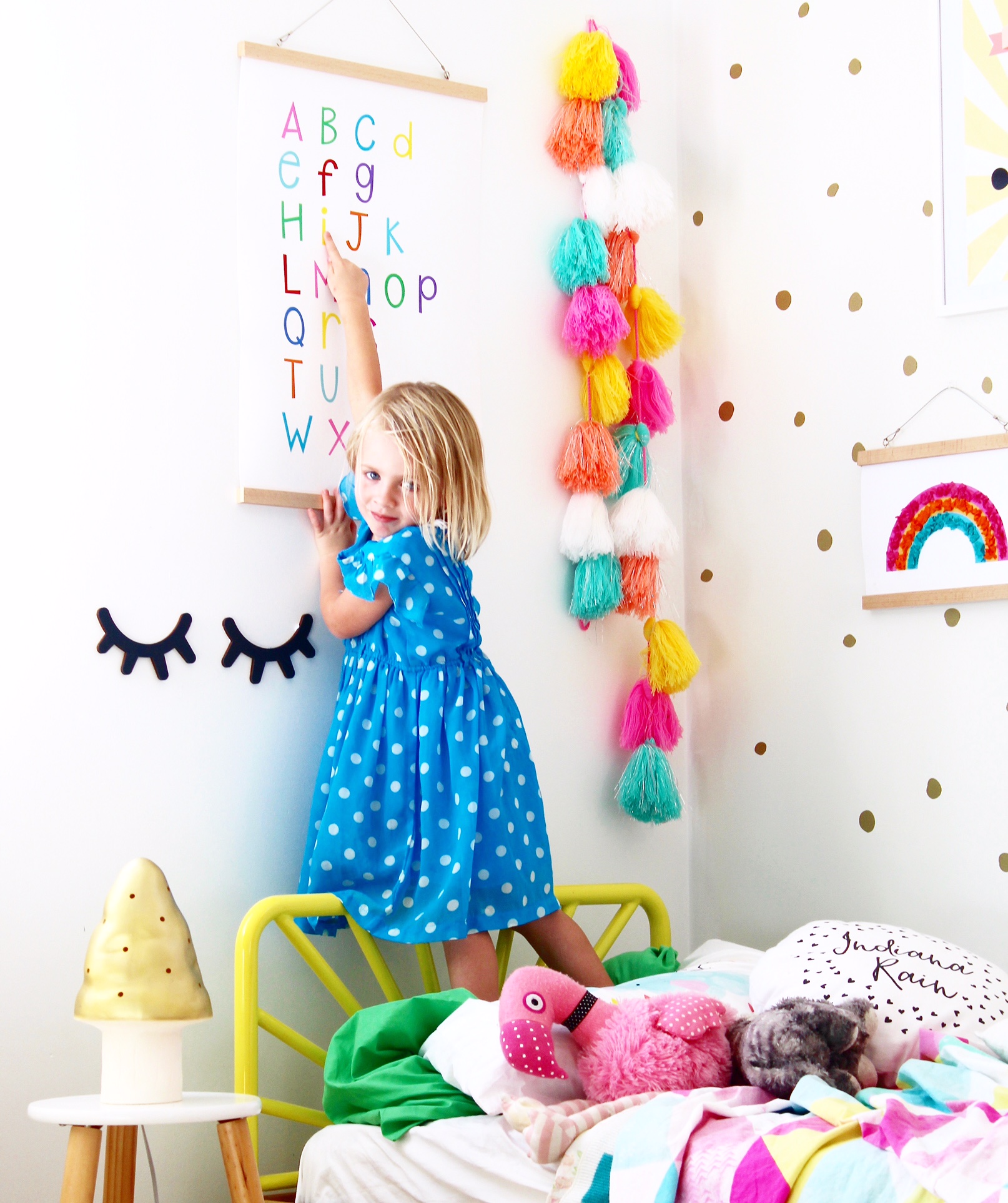 ABOVE: 'i, i for Indi'.
You can use this alphabet chart (or one you may already have) to help your child with letter recognition – especially for the letters in their name, or the initial (starting) letters of other family members (e.g. S for Summer, T for Toby etc) . The coloured format helps to break down options for your child when trying to find the letters – helping little people achieve success as they begin to develop letter recognition skills.  E.g. can you find the 'c' for cat – (hint – it's a blue letter, extra hint, it's a blue letter at the top of the chart etc).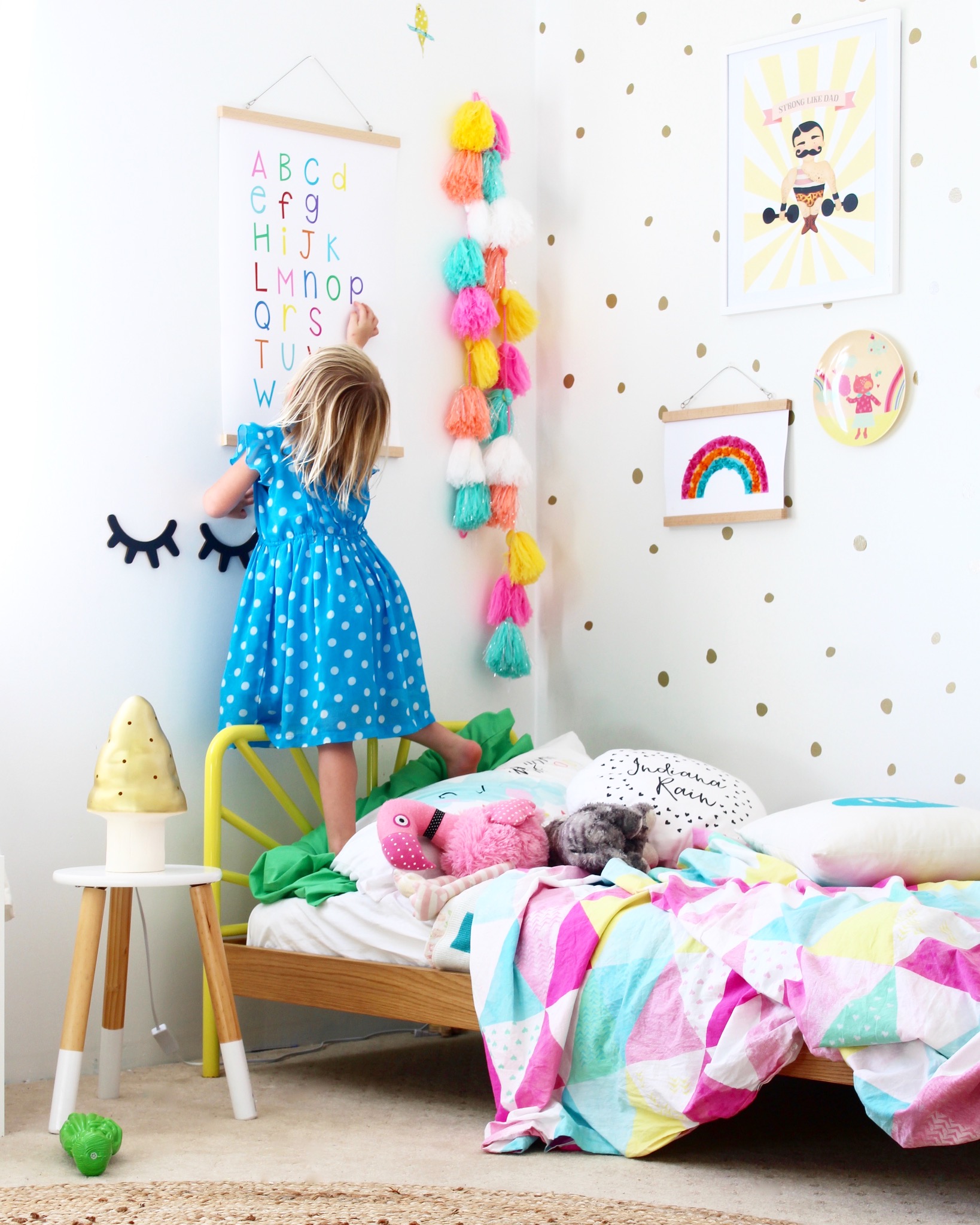 ABOVE: Indi searching for the beginning letters of her siblings' names. 
While I love this design with the mix of both upper and lower case letters as it as it is more 'child-like' and whimsical – the download I have created comes complete with two extra versions. One version has all upper case letters and the other has all lower case letter formats. All you need to do is select the design you prefer.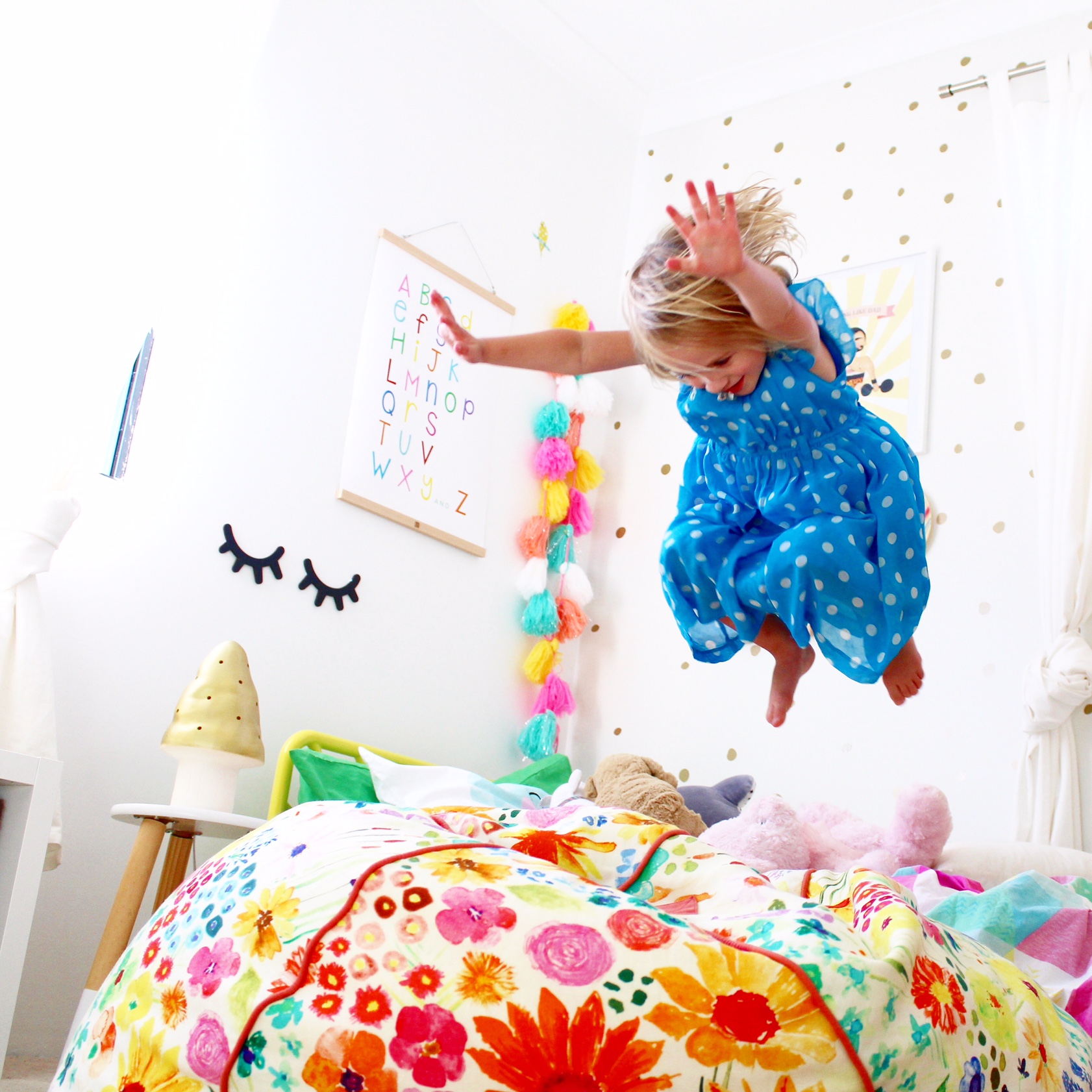 And of course, if your done with letter hunting, leave the print to look toddler cool while you get back to that all important task of serious beanbag jumping – just what our cheeky monkeys LOVE (I know – not really related but it's her favourite pastime and was just too cute not to share!).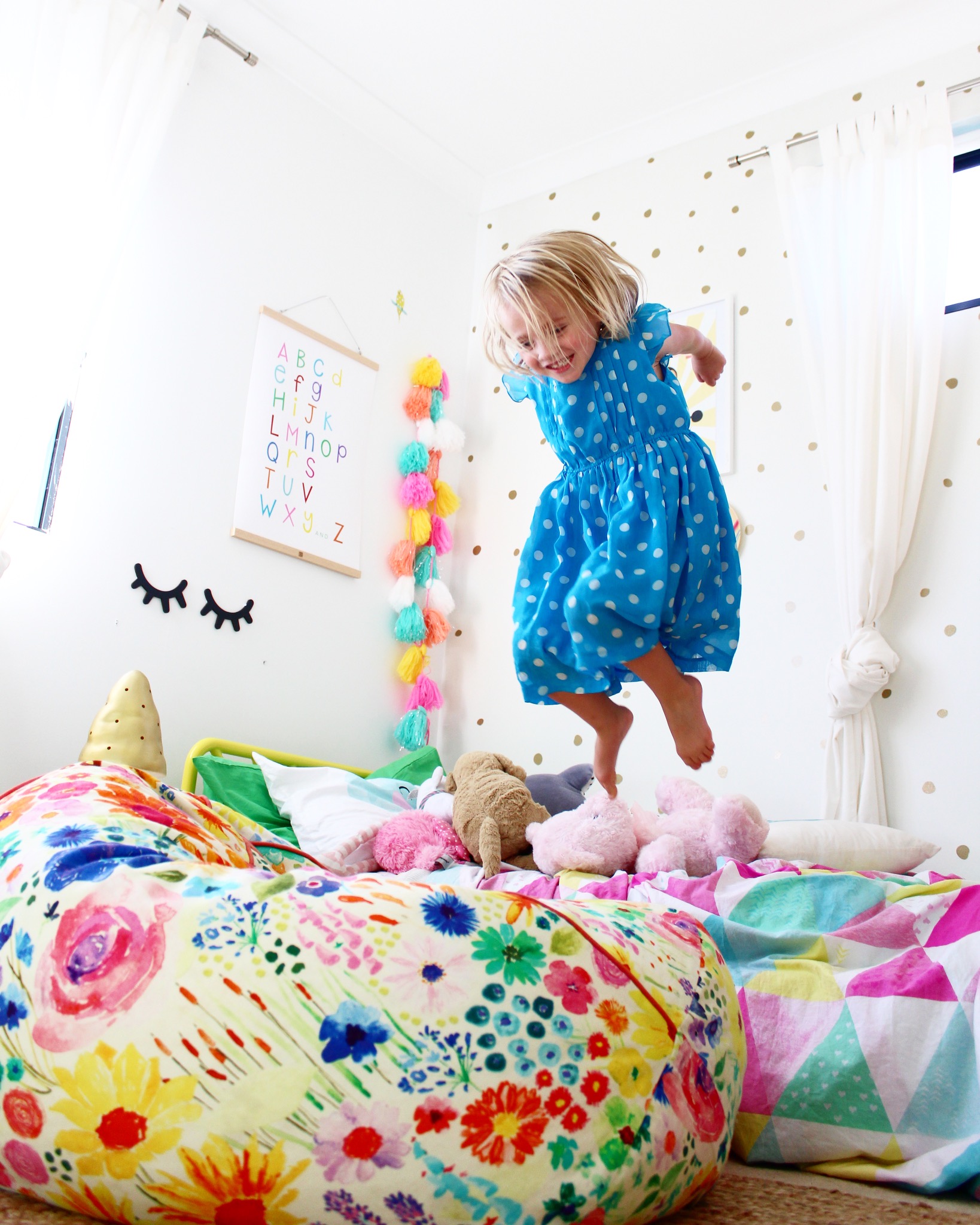 Stay tuned for a few more cute prints I have been working on. They have been designed specifically for toddlers that combine both a love of learning and childhood whimsy.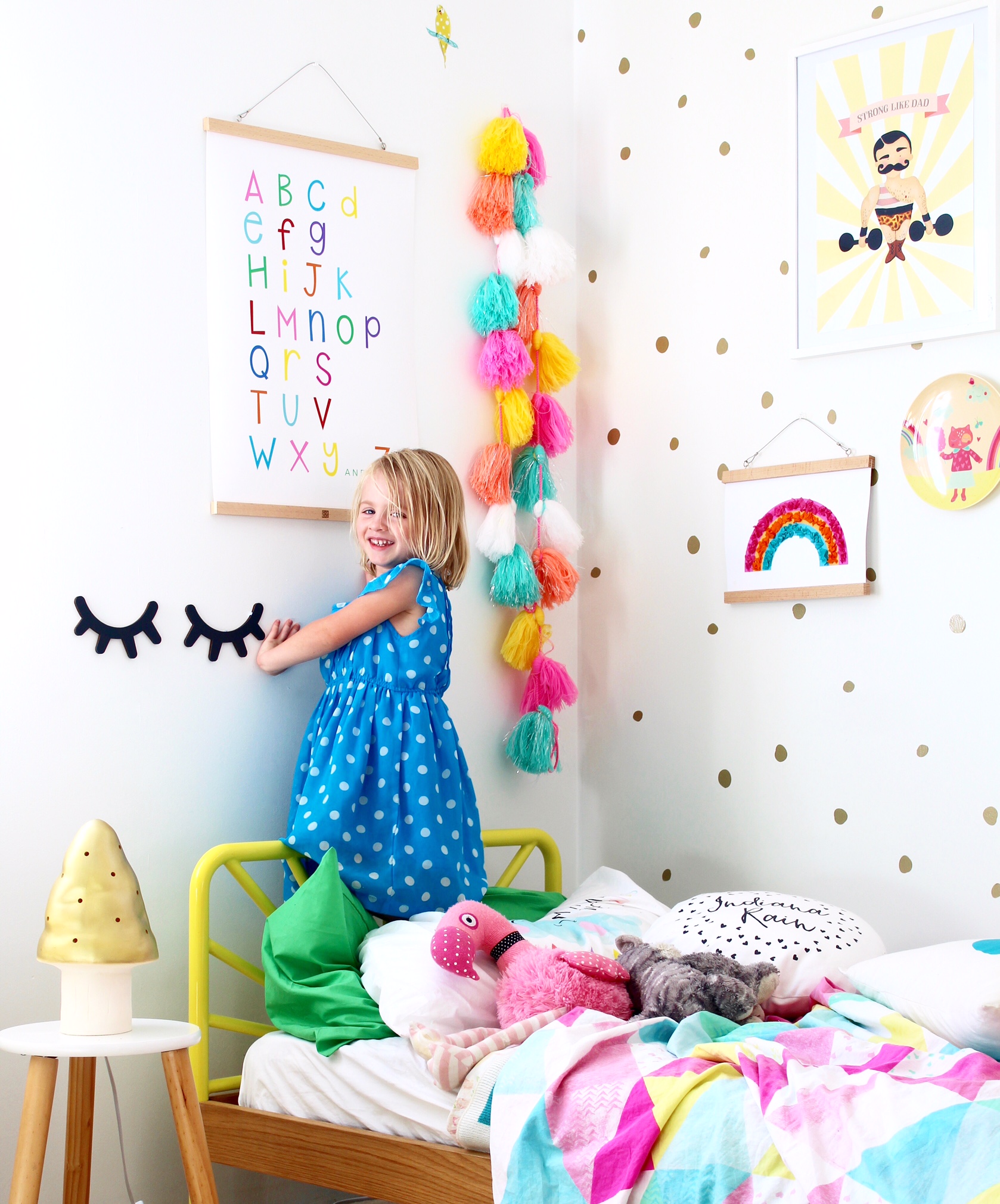 Until then, I hope your day is filled with happy!

love ness XXXX (one for each monkey)