potato character people
Just when I though Bookweek could not get any more hectic, my kids sprung another little 'surprise on me'.
Mummy, I need to make a potato character too.
Whaaaattt!!!
Lucky for me, child numbers one and two are totally independent, and are fully capable of mess making (and cleaning) on their own. However, child number three, still needs a little more guidance when it comes to… well pretty much everything. So Tuesday night, after all the baths were had, dinners were done, benches were tidied master seven informed me, "Mummy, I still need to make my potato person!"
Initial response, nope, no way, not now, 7.30 at night. No potato person for you (i know, worst mum ever right).
But come Thursday morning, last day for potato characters, my eldest got helping my little boy with what resulted in a really simple, yet extremely cute potato character based on of his favourite books 'DON'T LET THE PIGEON DRIVE THE BUS!'  that I thought I just had to share!
It was so easy to make that these potato characters would be such a fun activity to do with kids either in the classroom or at home on a rainy day. My kids and I loved doing them sooo much that I can't wait to try make some more with them.
Potato Book Character People: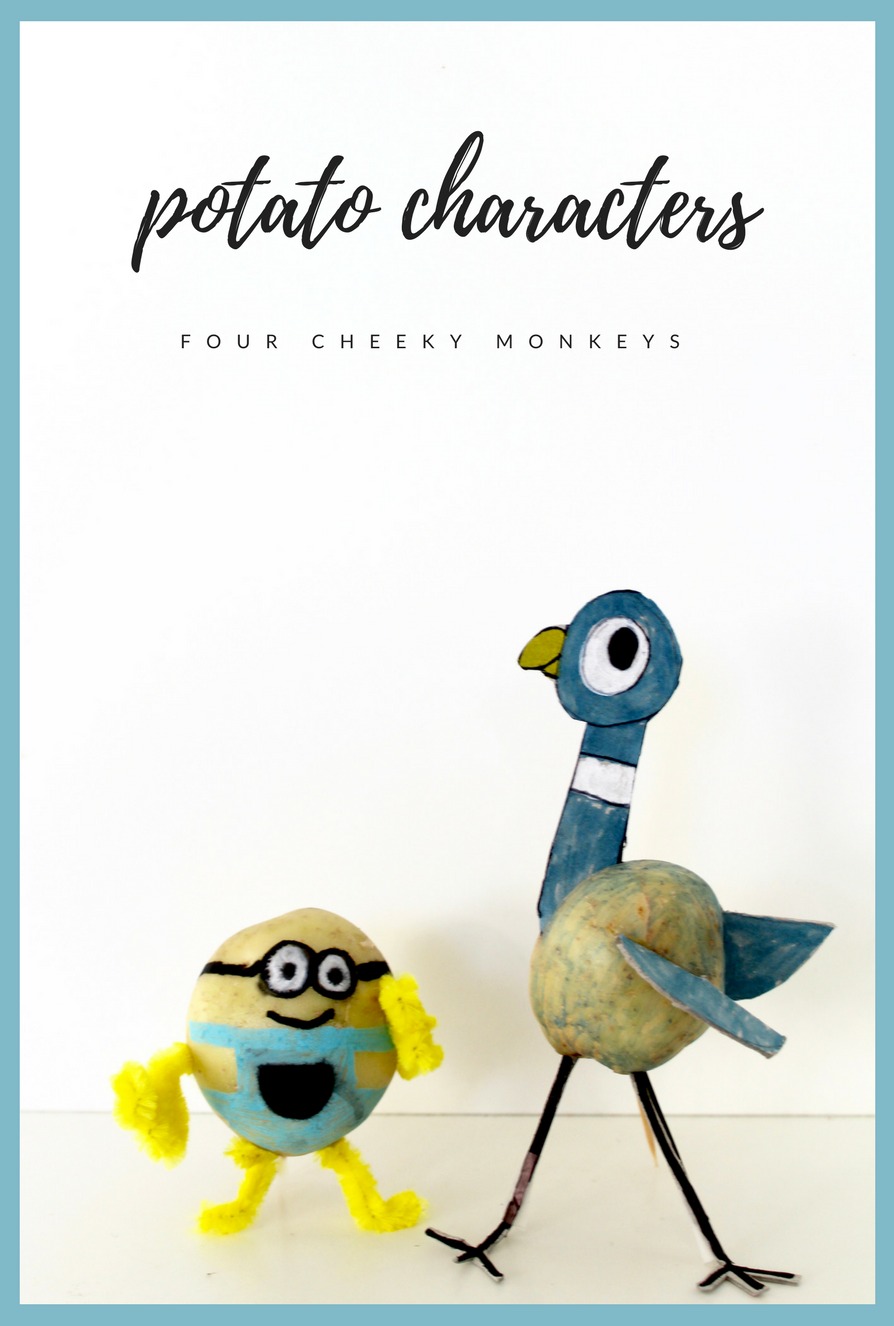 you need:
POTATO
textas, or acrylic paint
cardboars
tooth picks (to stand)
other craft supplies (be as creative and frugal as you like)
directions:
first decide on a character
next, decide on the easiest way to use the potato for the character – choose HEAD or BODY
then either paint the potato and allow to dry OR use permanent markers and colour the potato. My kids found this easiest if a couple of toothpicks were inserted to help it to 'stand' when decorating and painting/drawing on.
finally, draw the other features onto cardboard and attach to potato( making small slits in the potato to insert). You could also use other items like felt, pipe cleaners,fabric scraps,  goggly eyes etc.
While my children did not use glue for theirs, I saw some at school that were created using a hot glue gun to attach the craft supplies.
NOTE: for safety, I would either use toothpicks with flat bases, or break away the points if doing this with small children.
EXTENSION:
To extend learning, you could try to make the setting of the story using a basic box and decorating it with collage materials. Then use your potato book character to retell the events in the story or for children to engage in pretend play.
This can help to build vocabulary, develop an understanding of story elements and can help to strengthen comprehension and sequencing skills as children retell the main events in the story.
The making of the potato is also excellent for developing –
problem solving skills
creativity
fine motor skills
For other fun things to do with kids you may like this post HERE or for other early learning ideas you may like to check out my Teachers Pay Teachers store (there are some great things for parents too) HERE.
Thanks for stopping by, love ness X