Same space – new look!
Hiya! You may remember I recently posted Summer's new space and spoke of how I was trying out a few different looks in her room. Well… I finally found a little time and managed to upload a few pics of another look I recently created.
And since I'm always getting emails asking for advice on how to 'freshen' up a space, today I thought I would share a few simple things I like to do when a little reshuffle is on the cards…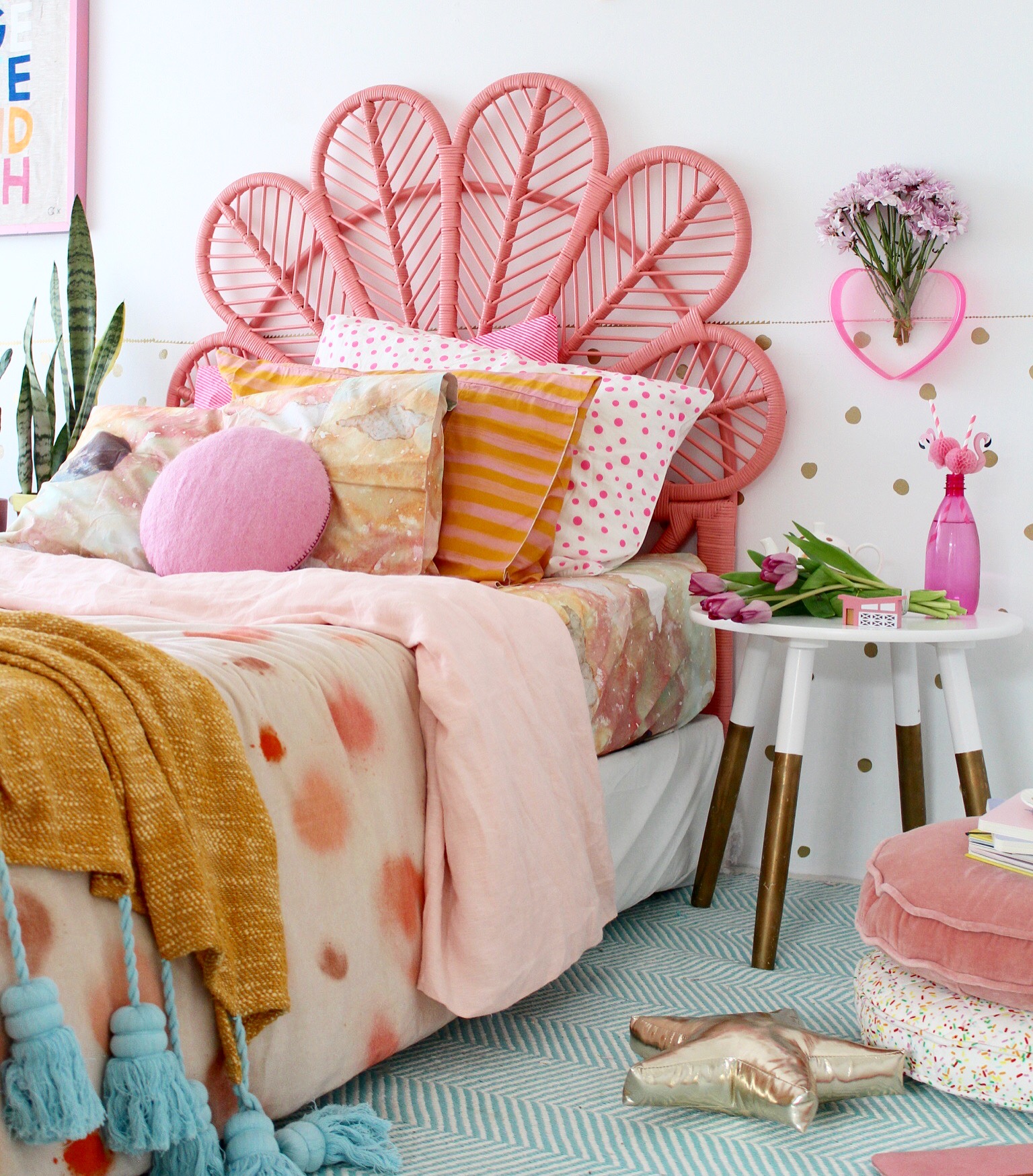 SWAP OUT SIDE TABLES:
If you like to change things around, swapping out the side table is a great place to start. Lamp tables, side tables, small coffee tables, stools or chairs can all be used as side table options. Just ensure that they have a relatively flat base and can serve the intended function (e.g.  lighting or storage).
If colour is an issue when selecting a side table, try using something in neutral tones that will work with anything and introduce colour with what you place ON the table. Alternatively, f you are after a little colour, a simple tin of spray and a bit of up-cycling can help to balance the colour palette of a room.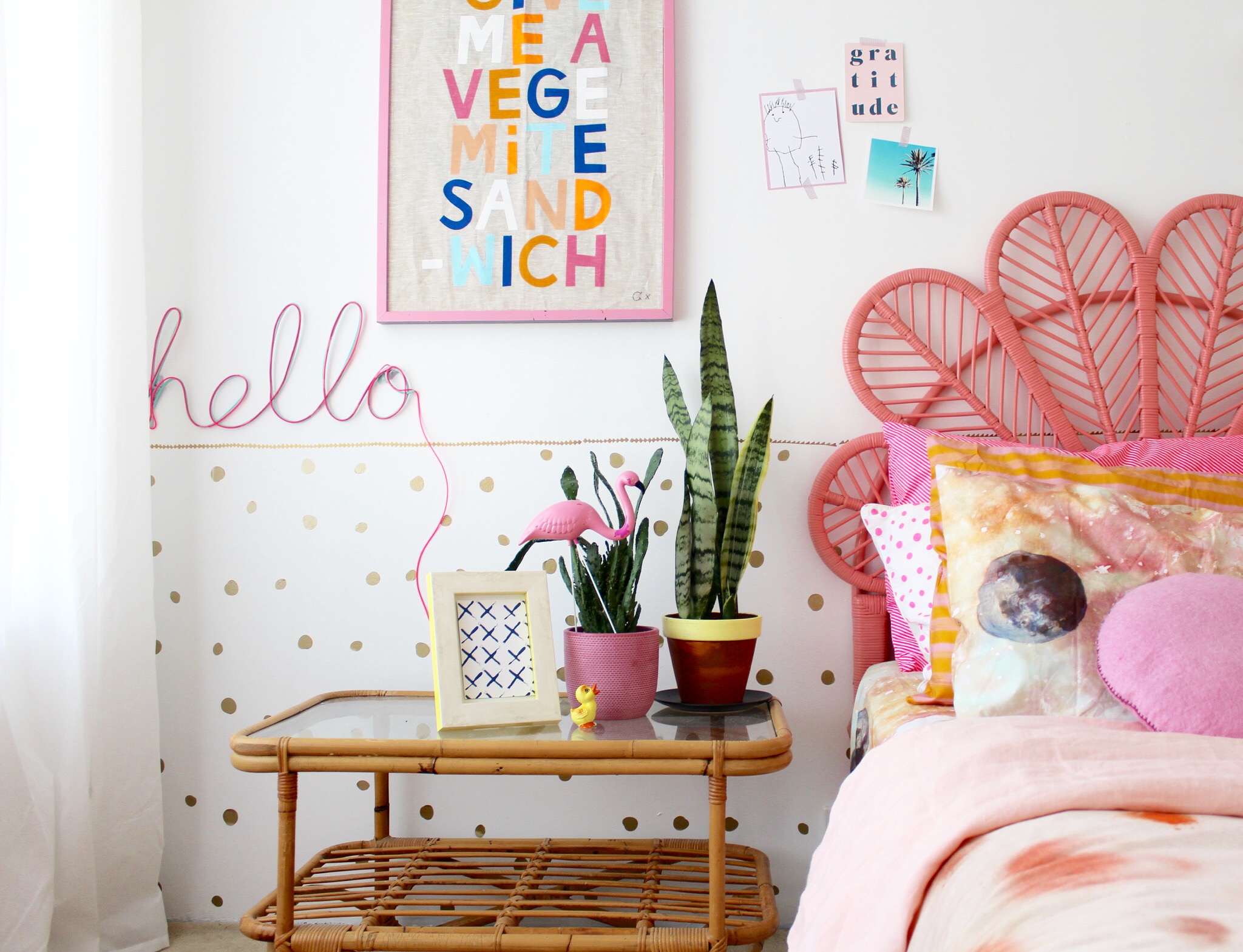 PERSONALISE:
A space just doesn't seem complete if it hasn't been personalised in some way. Simple techniques like adding a little artwork or displaying a few photographs can make all the difference.
When clustered into groups of three, they create that magic 'triangle' that is aesthetically pleasing to the eye. Grouping three different prints or pictures in this way can also help balance the space by adding a pop of visual interest in an otherwise blank space.
As I'm a HUGE lover of kids artwork, I added this little drawing Indi made for her sister. By mounting it on card in similar tones to her room and grouping it with two other pictures (photograph and card) it creates a unique point of interest.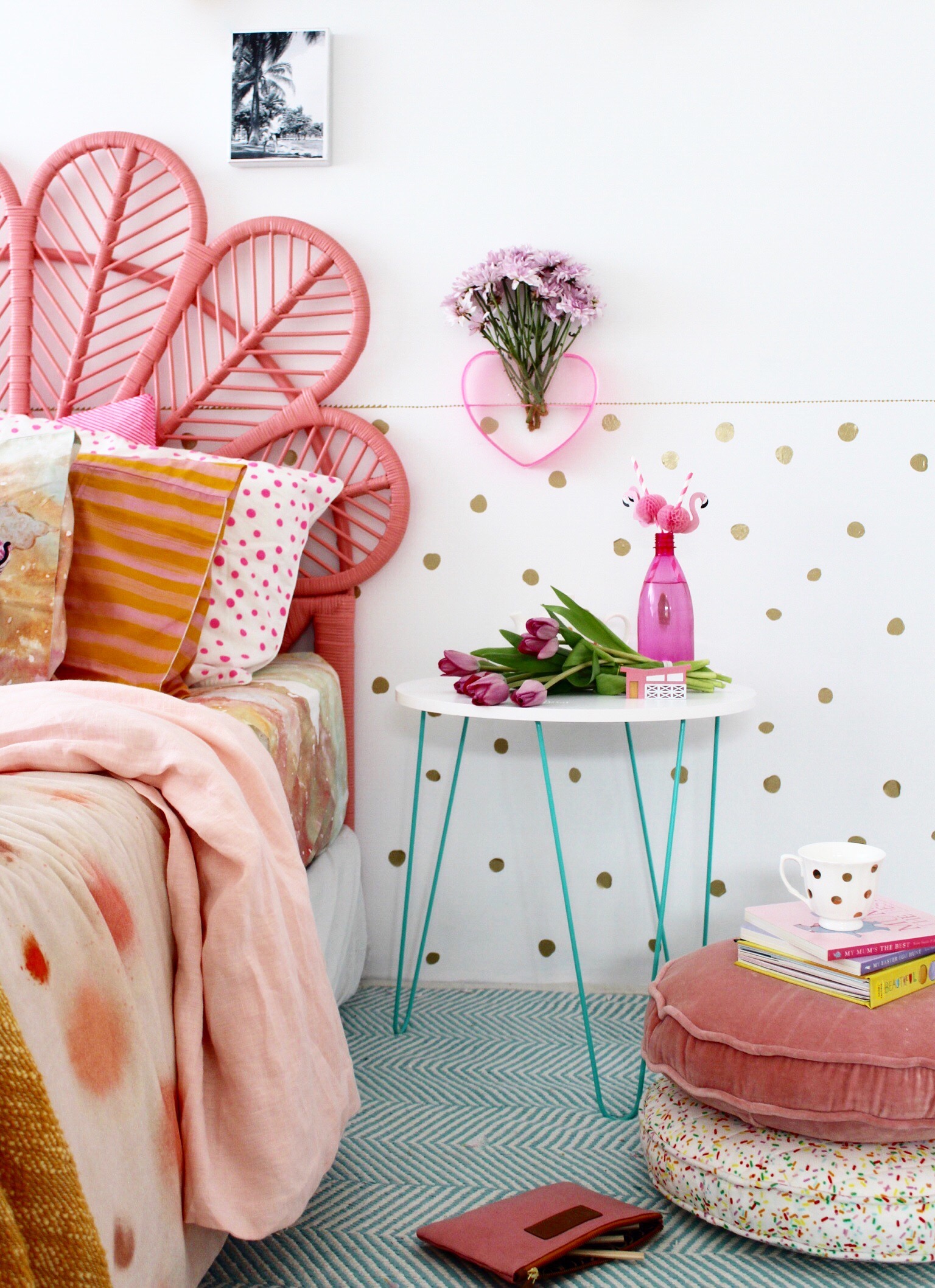 CHANGE THE BEDDING:
Changing the bedding or pillows in a bedroom is one of the EASIEST and QUICKEST  way to update a space.
When changing your bedding, don't be afraid to mix new pieces with what you already have. Here I used some old bedding and mixed it with a few new season KIP and CO pieces to keep the look on trend and fresh. I also worked with the placement of pillowcases to create a 'casual layered' look, perfect for a cosy atmosphere. Texture and warmth can be easily injected by simply adding a few extra layers, or introducing a throw comfy over the end of the bed.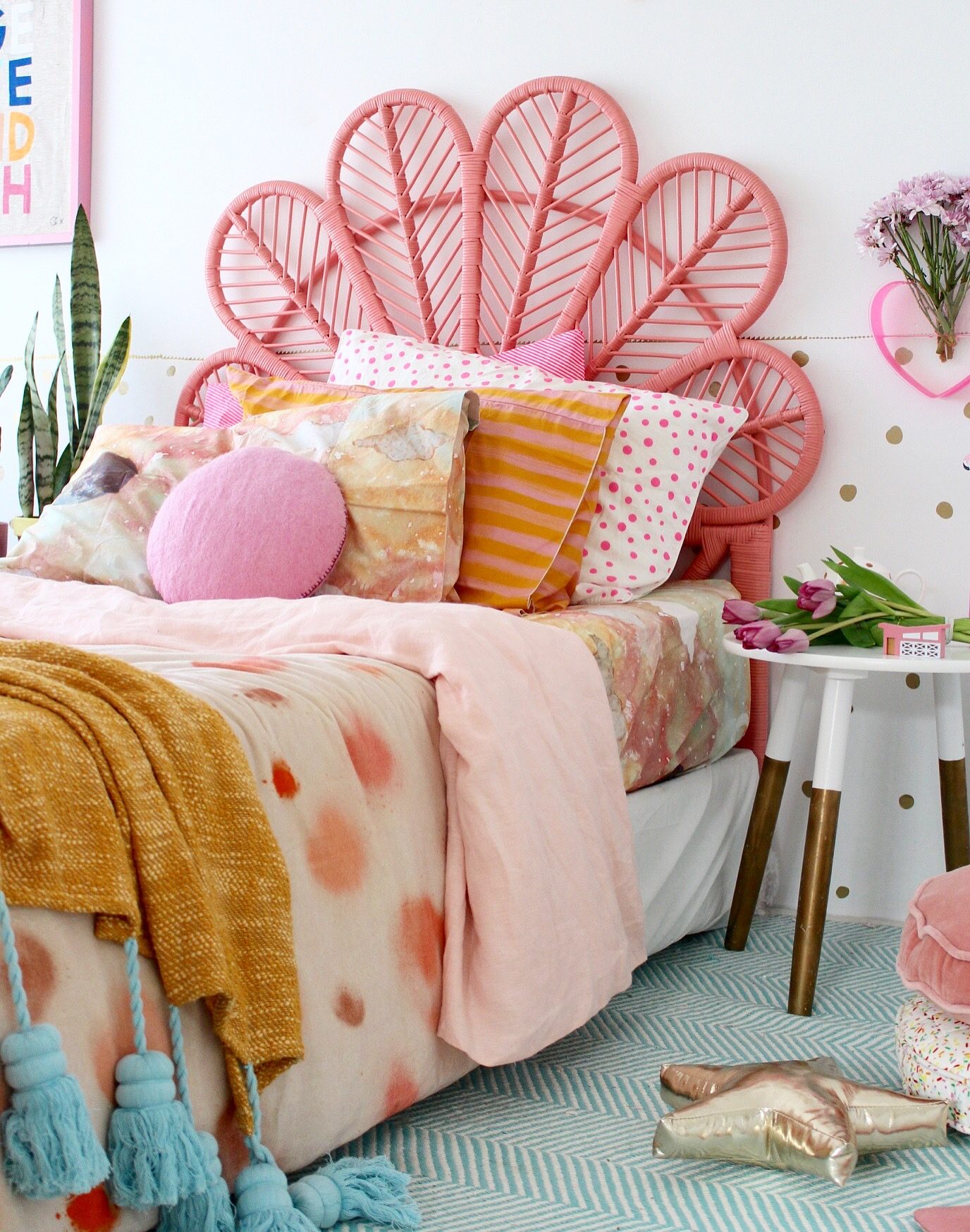 ADD A FEW THROW PILLOWS:
When styling a kids bedroom I love using a few round cushions to complete the look. The circular organic shape can help soften the harsh lines of standard pillow cases. In this space I used a small Mushkane smartie pillow on the bed and I also stacked a few bigger KIP and CO cushions to create an inviting floor space to kick back and chill.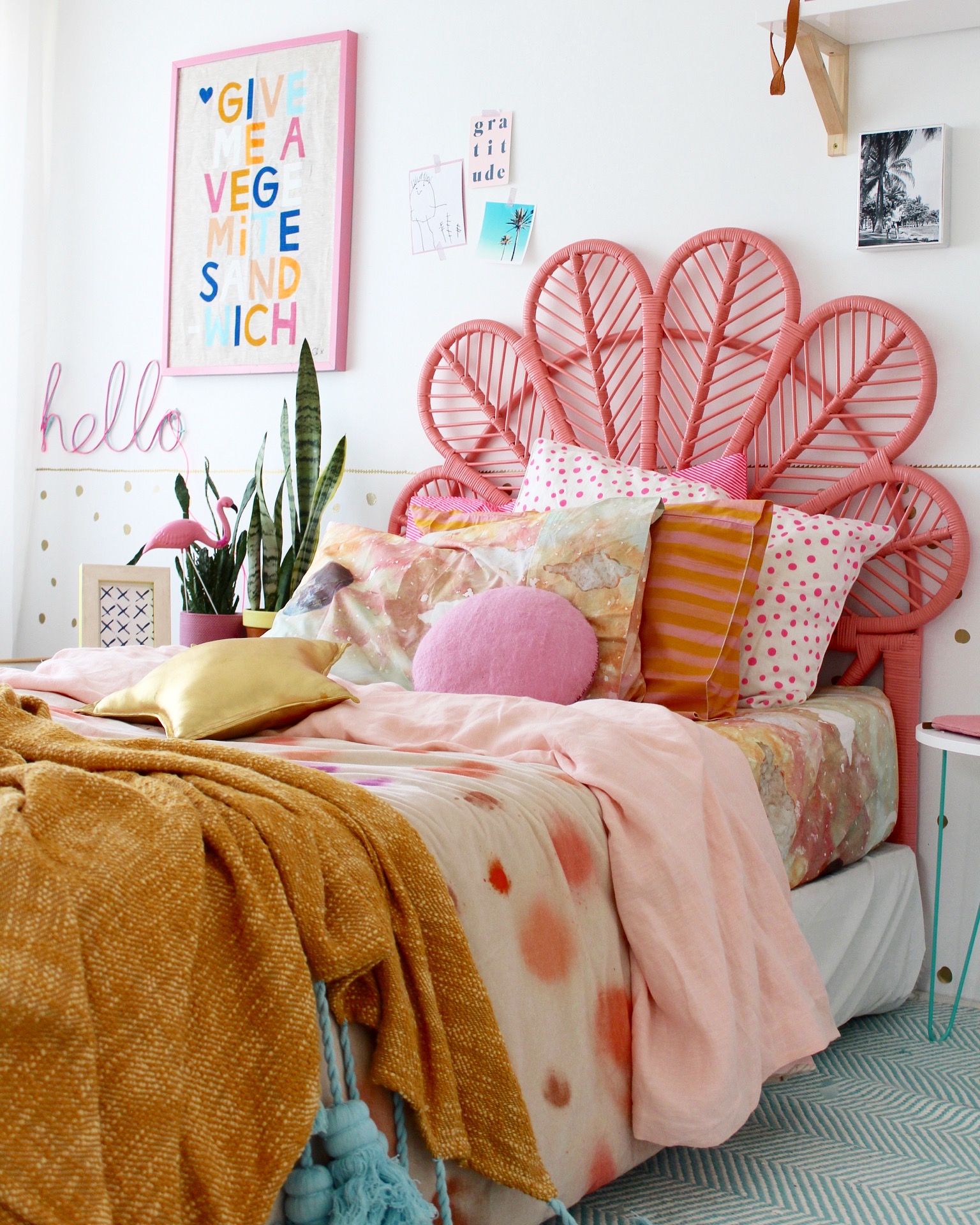 CHANGE UP THE ARTWORK:
Changing up the prints in a room can help to make or break a space. In this room, I  introduced one of my fave Castle and Things prints to tie the colour scheme together. I tried using a few different fames but settled on old IKEA one that I had previously spay painted pink. It's a little off-centre but the pink DIY frame adds that quirky element of fun in the space and helps bounce the colour around the room a little more.
If you can't find anything that suits your new space, you can always try to make something yourself. Just select a few key colour tones that are used throughout the room to help create cohesion and harmony.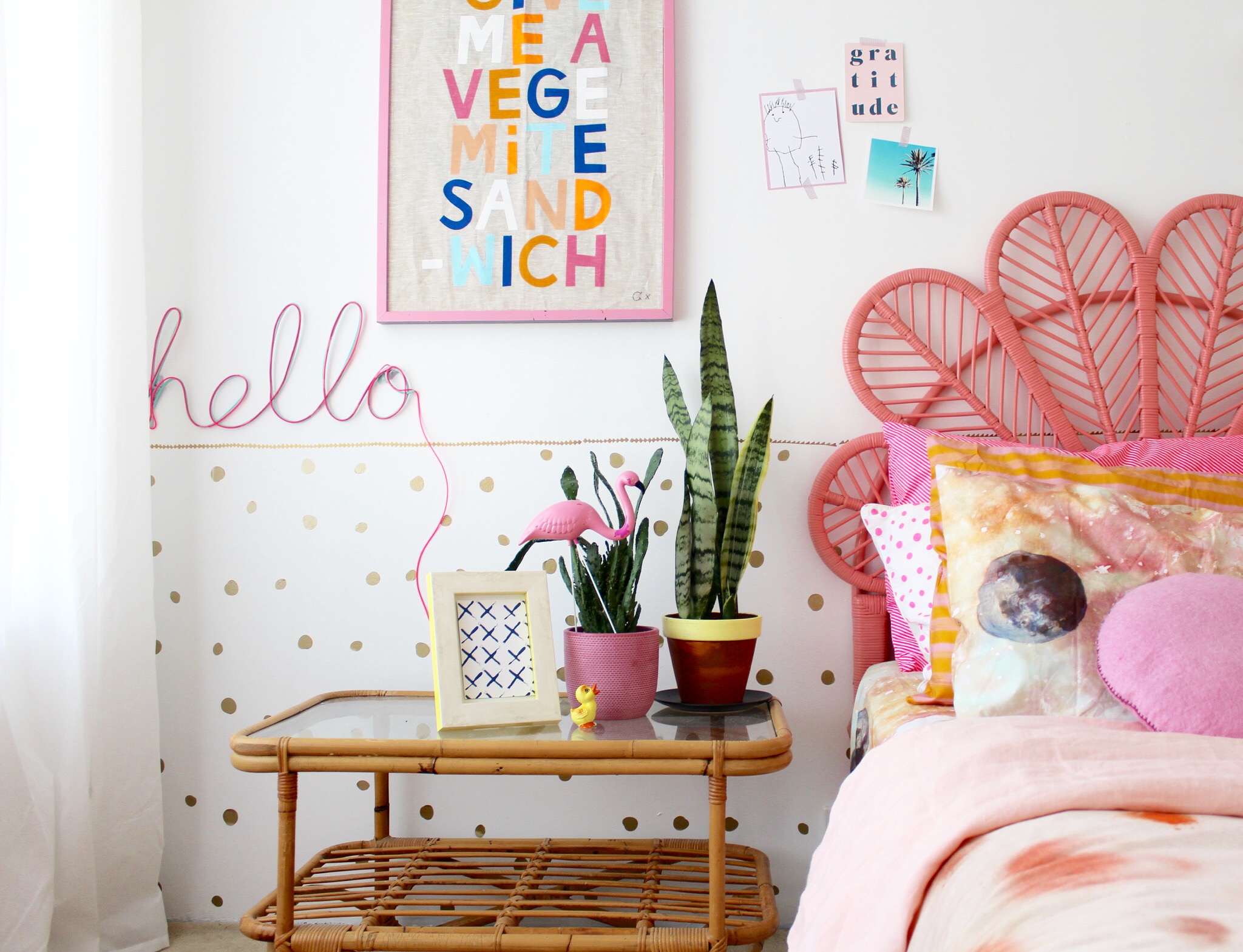 DIY IT:
If you can't afford the real deal, have a little DIY attempt. Of course, they don't always work (as was my case) but for now this little DIY neon attempt will have to suffice. Here I covered our blue 'hello' sign with pink neon tubing. The one I saw on Pinterest was WAY better. My version, definitely not as good as the real deal – thinking #DIYnotwinning! 
A few current 'on trend' things you can easily make yourself include garlands, tassels, wall art or macrame hangings. If you are a little frightened to go at it alone, get your friends around for a DIY sesh or spark that creativity by enrolling in a local course.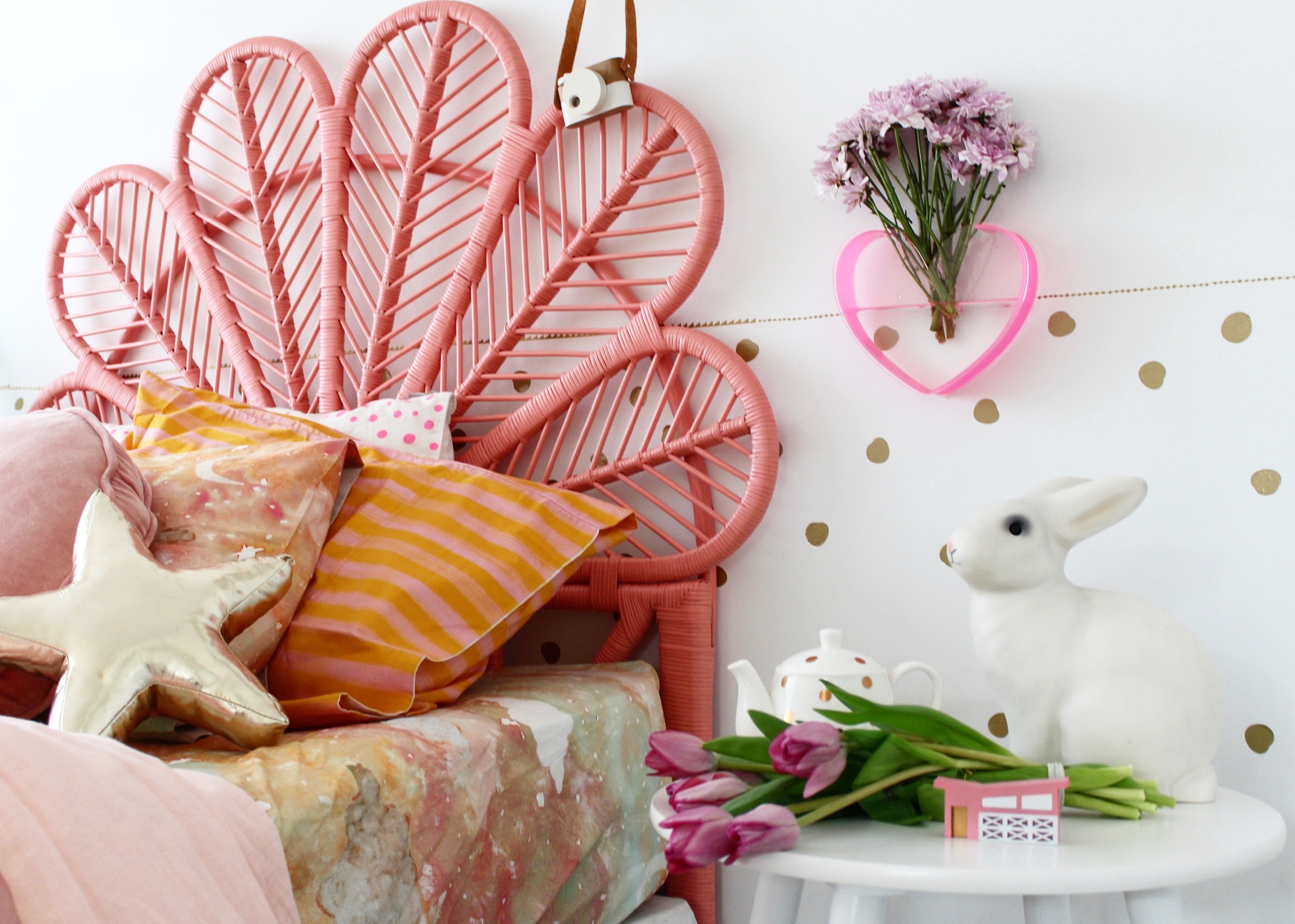 FLOWERS:
A simple bunch of flowers can introduce both colour and texture. You may like to mix things up by using a vibrant pop of yellow, or go for more softer shades of mauve. What ever you chose, it can make a room sing and helps change the look in subtle yet eye catching way.
Till next time, hope your day is filled with happy!
Love Ness X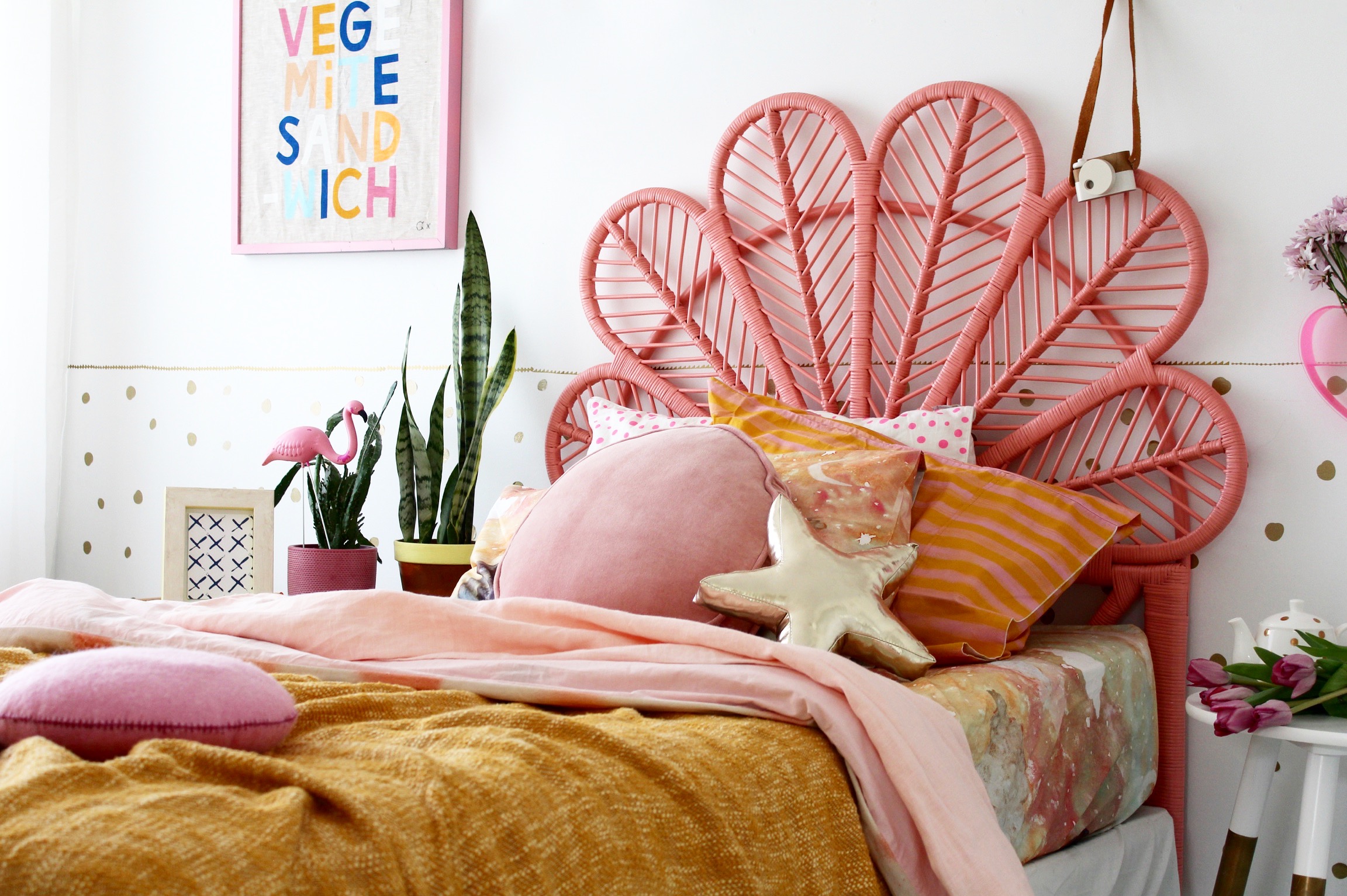 ---
bohemian bedroom for kids – shop the look